Adventurous Skin Contact Whites 3-Pack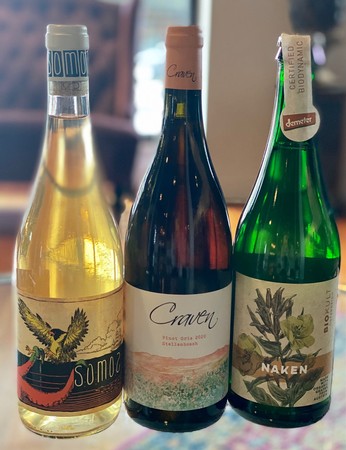 Adventurous Skin Contact Whites 3-Pack Includes:
Somos Naranjito 2020, Australia
This is a great example of a more smashable 'orange' wine than some of the more challenging examples on the market today. The Verdelho fruit was grown biodynamically, all the fruit was fermented on skins before being split in two portions: the first went to barrel to spend time in oak on lees; the second stayed on skins for a huge six months before pressing giving a wild, gingery, exotic tweak to the flavours. So much personality, so much drinkablity, so much value. A super offering from this great small McLaren Vale operation.
Craven Pinot Gris 2020, South Africa
In the words of Mick & Jeanine Craven: "Pinot Gris is something we have a lot of fun working with. Although a lot of the wine drinking world think and assume it is a 'white grape', it is in fact a lovely coppery/dark rose skinned grape. With this being the case, we just can't waste that colour and delicious flavour trapped in the skins, so we ferment this wine like a red. In 2020 we destemmed the fruit in its entirety and fermented it in open top fermenters. The fermentation on skins gives the wine a beautiful rose coloured hue. We found due a slightly higher yield the tannins were lovely and refined which enabled us to keep the wine on skins for 8 days before pressing in 2020."
Biokult Naken Orange Wine 2019, Austria
Produced in partnership with three small family owned vineyards, Naken is a unique creative project in the Burgenland region of Austria. Following historic traditions, the grapes are processed as they would be for red wine, fermented on the skins for several days. The result is a beautiful and delicate orange-rosé color with a higher concentration of tannins and structure along with a creamy body style.
Pink-hued and funky, this skin-contact orange wine brims with clementine and orange peel notes on the nose, supported by an overtone of honeysuckle. The light palate has a texture reminiscent of citrus pith and tingles with freshness, while clementine and white pepper notes are highlighted by the bone-dry nature. It is compelling and wonderfully light. -Anne Krebiehl MW