Alexander Jules Fino Sherry 9/65 NV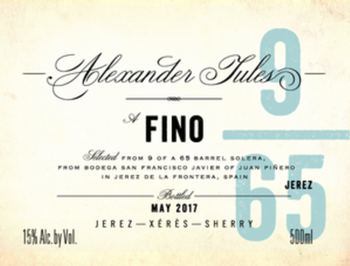 A selection of flor yeasts as much as a barrel selection. Nine to ten years average age, from two of the most revered vineyards in Jerez, Pago Macharnudo and Pago Añina. A very pungent, mature, saline Fino.
There were 9 barrels bottled of this 65 barrel Solera. The solera was started in 1940, as something of a hobby for an aficionado named Angel Zamorano, and it was later acquired by Juan Piñero.
This is a very Full style of Fino.