Anxious? Drink Italian Reds 3-Pack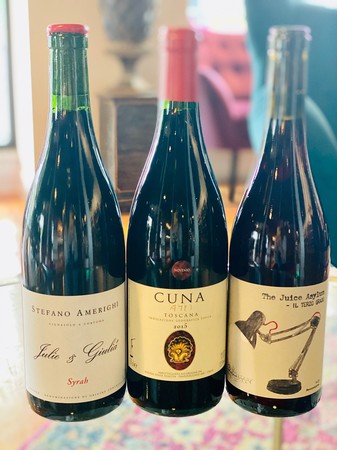 Italian Reds 3-Pack Includes:
CUNA di Federico Staderii Toscana Rosso Pinot Nero 2015
Gorgeous Pinot Nero from the unlikely Eastern border of Tuscany, Italy. Floral and sunny —without being overripe—this Pinot Nero is fresh, complex, and extroverted. Tannin gives it structure, but the tannin is incredibly soft, primarily due to Federico's insistence on crushing the grapes with his feet (instead of by machine) and bottling the wine unfiltered, preserving the wine's juiciness and long finish.
Stefano Amerighi Syrah Julie & Giulia 2018
Stefano's fresh, youthful Syrah cuvée, bottled without any oak ageing. It's named after Stefano's Canadian importer (Julie), and colleague (Giulia). All the hallmarks of the Amerighi estate: pure, dense black fruits, warm spices and gorgeous, lifted acidity.
Juice Asylum Il Terzo Grado Vino Rosso 2019
Sangiovese from Montepulciano and Merlot from Cortona are hand picked simultaneously, with the Merlot adding its full ripeness to the early picked tones of the Sangiovese. Both varieties are co-fermented in stainless steel semi-carbonically and with the use of indigenous yeasts and a small percentage (approximately 20%) of whole clusters. The juice spends 3 days on it's skins and then aged for 5 months in stainless steel. It has not been fined or filtered and is bottled without the addition of sulphates. The finished product has great energy and freshness with cool cherry sorbet fruits, violet petal and blackurrant acidity. It is delicious, fun, and funky made with minimal intervention in a light a super juicy style.