Bodega Maranones 30,000 Maravedies 2016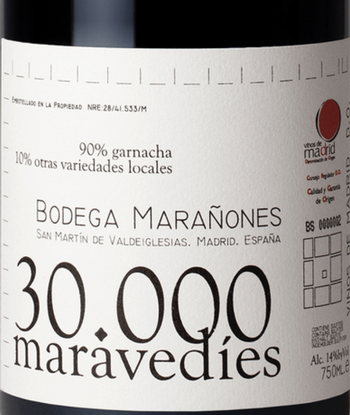 Maravedíes are an ancient form of currency once used in Castilla and 30,000 Maravedíes was the amount that Don Alvaro de Luna paid a local monastery, centuries ago, for the land where Bodega Marañones is now located. It is a fitting name for this "village" wine made from three terroirs that Fernando farms: Marañones, Andrinoso and Dehesa. 30,000 Maravedíes is made primarily from Garnacha with about 10% Morate in the final blend.
Practicing organic and biodynamic. Hand harvested, 24 hr cold pre-fermentation maceration, whole cluster, natural yeast fermentation in stainless steel tanks and 30–45HL oak vats, pigeage.