Bubbles Galore 4 Pack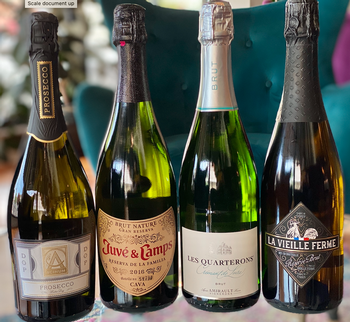 Acinum Prosecco
These Glera vines are trained in a Veronese pergola, which is pretty much a lawn chair for vines. The winemakers took their time, harvesting the grapes by hand, gently pressing, and slowly fermenting the wine with native yeasts. Take a leisurely tip from the pergola and enjoy the soft, inviting nose of honeysuckle and candied citrus palate in a backyard kiddie-pool folding chair.
Juve Y Camps Reserva de la Familia Gran Reserva Brut Nature 2016
This blend of 40% Xarel-lo, 30% Macabeo, 20% Parellada, and 10% Chardonnay spends 36 months aging sur lie. Aromas of stone fruit and baked bread combine like a peach cobbler, though the ripping Brut Nature finish is long and totally dry. Drink this vintage cava while watching YouTube videos about sourdough starters.
Domaine Xavier & Agnès Amirault Les Quarterons Cremant de Loire Brut
Chenin Blanc's natural acidity makes it perfect for sparkling wines. The fruit for this traditional method sparkler comes from Anjou, and it ages at least 18 months on fine lees, gaining weight and complexity. White grapefruit and a streak of chalky minerality make this refreshing Cremant the ideal accompaniment for breakfast (or brunch, or breakfast for dinner) in bed.
La Vielle Ferme Reserve Brut
The Perrin family of Chateau Beaucastel harvest Chardonnay and Ugni Blanc from limestone soils that preserve natural acidity, then perform regular batonnage to add savory richness. Apples, oranges, and lemons abound, like a still life painting in a glass. This dry, toasty French bubbly is best when deciding which of your family members you trust to cut your hair (answer: you love them all, but absolutely none of them).