Celebrate Rosé! Walla Walla 6-Pack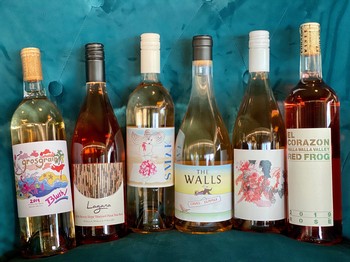 Celebrate Rosé! Walla Walla 6-Pack Includes:
Grosgrain Blush 2019
This dry, concrete fermented Grenache rosé from Matt and Kelly Austin is a cheeky nod to the California Blush wines of the past, though it's done in the light, refreshing house style of this new winery.
Lagana Pinot Noir Rosé 2019
Jason Fox sources the Pinot Noir for his rosé from Breezy Slope Vineyard, one of the highest elevation vineyards in Walla Walla. The elevation helps this notoriously finicky variety hold its acid, making it perfect for refreshing rosé.
Smak Summer Rosé 2019
A local rosé pack is not complete without one of Fiona Mak's delicious bottles. Her label is rosé exclusive, with releases reflecting the changing seasons. Rosé all year!
The Walls Cruel Summer Rosé 2019
This blend of Grenache and Syrah from French Creek Vineyard is always one of our favorite rosés, and the new vintage has not disappointed. Consulting winemaker Todd Alexander has produced an aromatic, fresh pink to beat the Walla Walla heat.
Hoquetus Cabernet Franc Rosé 2019
Advanced Sommelier Robert Gomez's new label, with its striking artwork and thoughtfully crafted wines, has quickly become a shop favorite. He hit it out of the park with this rosé from Blue Mountain Vineyard.
El Corazon Red Frog 2019
El Corazon is a party, and Spencer Sievers is the MC/DJ/disco ball/Winemaker. This Malbec rosé will cool you down like a lake in July. Rbbbbt.