Champagne Bollinger Special Cuvee NV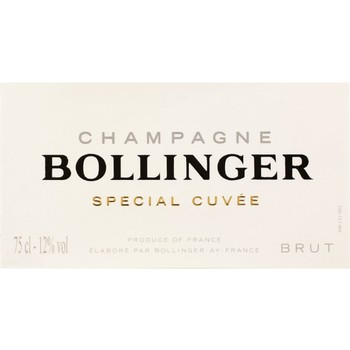 A golden color, distinctive of black grape varieties. Very fine bubbles. On the nose, it has a beautiful aromatic complexity, ripe fruit, and spicy aromas, with hints of roasted apples, apple compote, and peaches. On the palate, there is a subtle combination of structure, length, and vivacity. The bubbles are like velvet. Flavors of pear, brioche and spicy aromas, notes of fresh walnut.
Pair with all fish, especially sushi and sashimi, shellfish such as shrimp, prawns, crayfish and grilled lobster, poultry and white meat, cashews, parmesan or prosciutto.
60% Pinot Noir, 25% Chardonnay, 15% Meunier sourced from more than 300 crus, including 85% grands and premiers crus; 15% fermented in old oak barrels. The complexity and richness of Special Cuvée is unparalleled among the entry non-vintage blends of every Champagne house, short of ascending to the mesosphere of Krug. Its grand recipe explains why, built on incredible depth of 50%-60% reserves. Triumphant complexity is a given at Bollinger, but it's the dynamic freshness and vitality that really set it apart as one of the most affordable Champagne benchmarks. - 96pts Decanter