Chateau Margaux 2016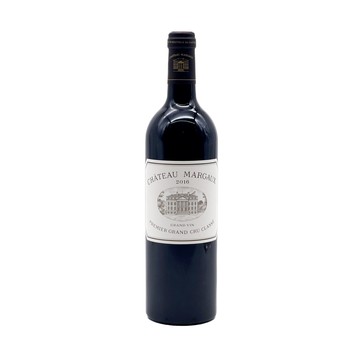 Chateau Margaux is one of the five First Growths ranked in the 1855 Bordeaux Classification. The neo-Palladian style chateau was built in the 18th century by architect Louis Combes for the Marquis de la Colonilla. Chateau Margaux has been well regarded in history and stands among Thomas Jefferson's favorite chateaux. Since 1977, the estate has been directed by the Mentzelopoulos family with winemaking team director Paul Pontallier, cellar master Jean Grangerou and consulting oenologist Emile Peynaud. The vineyards are primarily Cabernet Sauvignon (75%), with the balance composed of Merlot, Petit Verdot and Cabernet Franc. In addition to the chateau's grand vin, the estate produces a second label called Pavillon Rouge de Chateau Margaux and Pavillon Blanc de Chateau Margaux, a white made from Sauvignon Blanc. Chateau Margaux's finest vintages include 1900, 1928, 1953, 1961, 1982, 1983, 1986, 1990, 1996, 2000, 2003, and 2005.

Margaux is often considered the most "feminine" of the First Growths. It is sensuous with fine tannins that give it a sense of clarity. The wine has dark berry aromas such as boysenberry or blackberries. The bouquet is characterized by ripe black currants, spicy vanilla and violets. A strong minerality is often found in the lengthy finish.
Vinous | Rating: 98
The 2016 Château Margaux represents 28% of the entire production this year. It has an alluring, gorgeous bouquet that blossoms with aeration to reveal black cherries, veins of blue fruit, crushed violet petals and a suggestion of vanilla. The poised, mineral-driven palate is medium-bodied with very fine tannin and just the right amount of salinity. The 2015 Château Margaux is ahead by a nose, but this will be a formidable first growth with a five-decade life span.
Drink Dates: 2026 - 2070
Author: Neal Martin

Wine Specs
Varietal
Bordeaux Red Blends