Damien Laureau Savennieres Le Bel Ouvrage 2014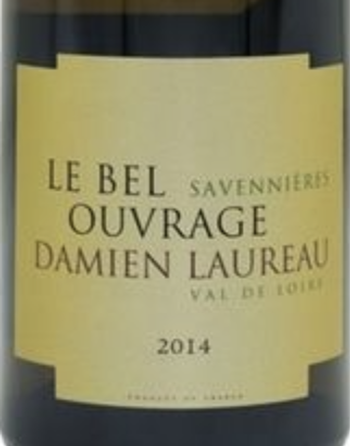 Working out of a tiny shed, Damien Laureau is one of Savennières new pioneering winemakers. Fruit extracts and other nonsynthetic treatments are used on the vines in place of harsh chemicals, and quite frankly, you can tell it just by looking at the
vineyards. They feel alive, with wildlife and indigenous plants sharing the space with Damien's healthy vines of Chenin Blanc.
Damien harvests just when the grapes turn yellow to take advantage of the richness that the sun brings. As a result, the wines are a beautiful balance of richness, concentration, lively acidity, and length.
Bel Ouvrage is made from a blend of three terroirs located in the eastern part of Savennières near the village of Épiré. These are grey schist and rhyolite terroirs including one that is adjacent to the Coulée de Serrant. More backward and slower to evolve than Les Genêts, Bel Ouvrage is aged for 12 months in neutral French oak then 11 months in tank before bottling.
Intense and focused, mainly from schistous soils, giving the wine a dartlike precision. Yields of 28hl/ha; concentration of quince and citrus with just enough flesh to add curves.- Decanter, 96 points