Dom Perignon P2 Vintage in Gift Box 2002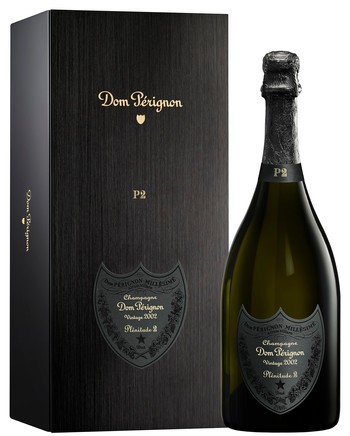 Dom Pérignon is always a vintage wine and can only be produced from the grapes of a single year. For each vintage and from its inception, a limited number of bottles are set aside in the cellars, predestined for longer maturation. With this extra time, the inner activity in the bottle increases. The yeast transfers its energy to the wine a mysterious transfer of life.
After close to 15 years, the expansion of energy reaches its peak and Dom Pérignon rises to an apex of essential, radiant vitality in its state of Plénitude. Elevated to new heights, it unfurls across every dimension wider, deeper, longer, more intense and gifted further with a new, extended longevity. It is precise, intense, vibrant.
About the 2002 Vintage: The vintage of a sun which never set
Winter was mild, prelude to a warm and dry spring In the vineyards, flowering was perfect July stretched on, basked in sunshine, punctuated by some welcome rain, which suddenly became more frequent and intense in August. Autumn loomed, but any portent was swiftly swept away by the warm and luminous momentum of September, where the wind accelerated the concentration of the grapes, the Chardonnay in particular. The gift of a superlative maturity that defines the vintage.
Tasting Note:
On the nose: The complexity is first and foremost warm, glowing gold with oriental exotic flavors: crystallized fruits, marzipan, sweet spices and fresh coriander. After breathing, fresh saffron evolves to a more grey, saline nature and the bouquet darkens, appears deeper, more reserved, harmonious and serene.
On the palate: The flavors are instantly delivered in a compelling fashion, opulent and ethereal, lively yet sensual, all around a core of fruit expression. Between the juxtaposition of aroma and palate, the sensuality becomes gradually more luscious, more tense, more profound. The combination maintains a fine lined precision of salinity with hints of liquorice.