Domaine des Rouges Queues Maranges 1er Cru Clos Roussots 2018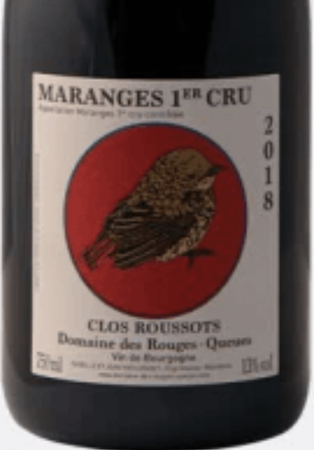 Clos Roussots is one of the two large premier cru vineyards that dominate the the eastern part of the village appellation. Planted in 1990, it is located above La Fussière and benefits from south/southeast exposure which ensures full ripening. The soils are composed of some gray and blue marl on top of the classic limestone & clay of the Côte d'Or. This vineyard is plowed entirely by horse to minimize the impact on the soil structure, flora and fauna.
Minerals are more prominent in this wine than others from the domaine due to higher elevation and thinner topsoil. The fruit is high-toned with cherry components melded with earth and minerals.
Isabelle and Jean-Yves Vantey founded their small winery in Sampigny-Lès-Maranges in 1998 with one hectare of Maranges vineyards. They began adding parcels of other vineyards to form an estate which today encompasses 5.6 hectares spread over 10 appellations. Their farming practices are both organic and biodynamic and minimal sulfur is used in the wine making process, with the goal being to use just enough to preserve the natural fruit and terroir complexity brought from a healthy harvest of ripe grape