E. Guigal Condrieu La Doriane Viognier 2018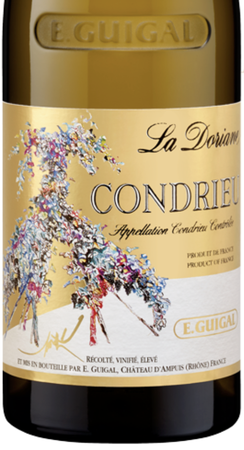 Condrieu is the ancestral home of the Viognier vine and is the source of one of the world's most exotic white wines. In the mid-20th century, only 20 acres of Viognier remained in Condrieu, leaving the grape and the appellation in serious jeopardy. Guigal was instrumental in bringing this appellation back from near extinction, and today supplements the grapes from their own vineyards with grapes purchased from numerous small growers, ultimately vinifying nearly one-third of the entire appellation.
La Doriane is a luxury cuvée of Condrieu that the Guigals have produced since the 1994 vintage. A great success since the first vintage, the wine always seems richly oaked and very fruity when young, transforming in 3-4 years into a seamlessly complex, aromatic and vibrant wine. La Doriane contradicts the accepted wisdom that Condrieu does not age well.
Produced from the top 5 terroirs of this famed appellation, La Doriane is an extremely intense wine with a complex range of aromas. On the palate, it is round and fleshy with a lovely freshness which brings harmony.
Wine Specs
Appellation
Northern Rhône