JH Meyer No Sulphur Pinot Noir 2017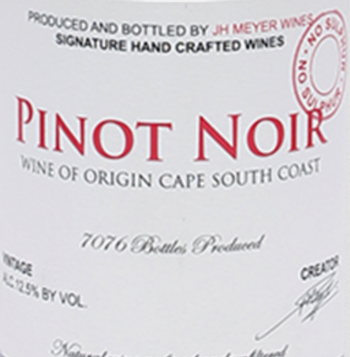 Inspired by many travels to New Zealand, California and Burgundy, Johan Meyer, AKA "Stompie", has been scouting vineyards hoping to produce the best South Africa can offer, giving honor to the world's most elite varieties: Pinot Noir and Chardonnay.
Johan established his namesake winery in 2011, with 2012 seeing the first bottling of these fine wines. Driven by nature and "terroir" the wines show unique flavors and characteristics of the land from which they came.
This is a blend of three regions, released early as a no added sulphites wine (but in the end the other wines were no added sulphites too). Lovely black cherries and spices. Fine-grained with some earthy hints. Seamless with silky black fruits.