Julien Brocard Chablis Le 7eme Vin Nature 2017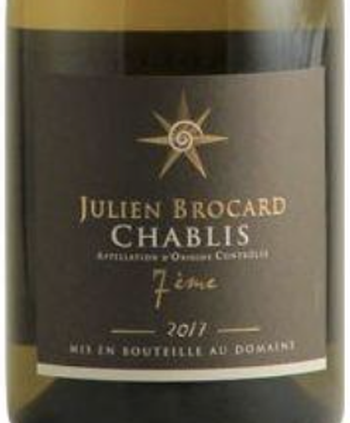 7ème is made without the addition of any sulfites. Like the other wines, fermentation happens spontaneously with indigineous yeasts. It's not filtered or fined and is slightly cloudy. Fermented and aged in an Austrian oak, Stockinger barrel. Biodynamic.
t's rare to find a Chablis grower who farms biodynamically because of the climate. There are only a handful of producers who do so and are certified. Julien Brocard was one of the first to practice biodynamic farming in Chablis and today he is certified by Demeter. Julien, in his never-ending quest for excellence, started farming a portion of the village level Boissoneuse vineyard in the mid-nineties and after many years of experience, he launched his own label, Julien Brocard - les 7 Lieux in 2012.
Today, Julien is working with 18 hectare total, the heart of which is 11 hectare in the Boissoneuse vineyard in Prehy. Biodynamic farming requires constant human observation and attention, and the use of ancestral methods and tools, such as horse-drawn ploughing, creates a natural link between people, the soil and the plants. He's planted fruit trees and witnessed a resurgence of wildlife in the vineyards and microbial life in the soil.