La Rata 3-Year Vertical (16, 17 & 18)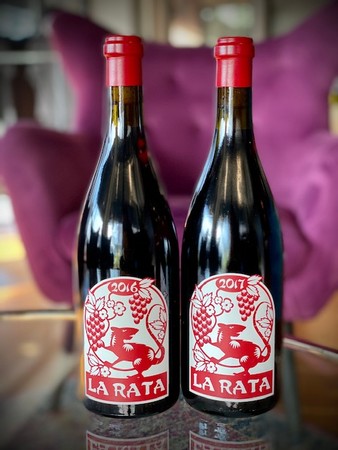 In the Chinese Zodiac, the rat has strong curiosity, a rich imagination and the willingness to try its hand at anything. So does Elizabeth Bourcier—a self-described "cellar rat" who, in 2012, created her first wine—La Rata.
While working since 2008 under the legendary guidance of Cayuse Vineyards founder and vigneron Christophe Baron, Elizabeth has learned much about crafting adventurous wines of elegance, style and class.
La Rata is a separate project from Cayuse Vineyards—a very special wine Elizabeth created using fruit from Armada, En Cerise, and La Paciencia vineyards. The extremely limited production is less than 150 cases per year.
"96 Points. The 2017 La Rata Red Wine is a tour de force from the Walla Walla Valley. A head-turning blend of 61% Grenache with 29% Cabernet Sauvignon and 10% Syrah, this wine by superstar Vigneronne Elizabeth Bourcier was inspired of the famed houses in Priorat, particularly Clos Erasmus and Clos Mogador. The stony terroir aromatically really inspires alongside the Umami, peat moss, blood orange zest and pretty red fruits that all dance in unison. The palate shows great depth and concentration but also remarkable finesse. Layers of seaweed and Hoisin sauce march on with the core of salted pomegranate seed, wild blackberry compote, bull's blood and wet stone on the palate. The remarkable length and tension really add to the enjoyment here. Truly sensational in its youth, the 2017 La Rata will provide drinking enjoyment for at least another decade — but why wait? Drink 2020-2032" – Owen Bargreen, Washington Wine Blog