Lingua Franca Mimi's Mind Pinot Noir 2018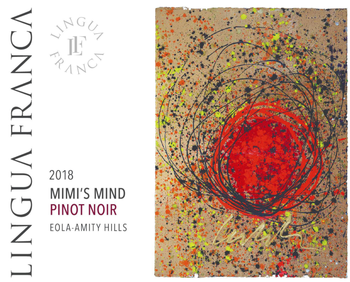 Due to its structure, the 2018 Mimi's Mind starts off more focused than the other 2018 cuvées, with stunning lift. With a little air it reveals a complex of herbs, such as fresh thyme and oregano, and floral notes of rose petal and violet, rich mulberry, red cherry, raspberry, and overtones of aromatic spices such as cinnamon, vanilla and anise. The finish is enveloping and quite long. It becomes creamier and more harmonious with age in the bottle. This has been our most celebrated cuvée since our first release of the 2015 vintage.
The structure of Mimi's Mind in its youth make it a prime candidate for pan-roasted duck breast, Lamb Provençale, filet mignon and hard cow's milk cheeses like 18-month aged Gouda, Comté, Cantal, Parmesan, Abondance, Beaufort or other Alpine cheeses other than the Apenzell type. As this wine ages and reveals the deep fruit, spice and mineral qualities underlying its youthful fruit profile, it becomes more suited to roast chicken with morel mushrooms, braised rabbit with thyme or sous vide pork loin with thyme.
The fruit for this wine comes from Hopewell, Mimi Casteel's meticulously farmed vineyard. Larry Stone and his winemaker, Thomas Savre, include about 50 percent whole clusters in the fermentation, and that—plus the wild and vibrant fruit character that Casteel encourages through regenerative agriculture—results in pinot noir of exotic aromatics, profound depth and exceptional concentration. Scents of thyme and lavender, humus, bergamot and smoke overlay a wine deep in dark-berry flavor with an intensity that assures a long life ahead. - 95pts W&S
Wine Specs
Appellation
Willamette Valley