Loire Valley 4 Pack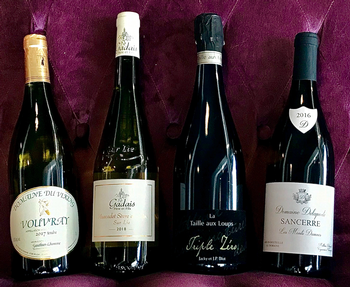 Domaine Delaporte Sancerre Les Monts Damnes 2016
Region - Chavignol, Sancerre, Loire Valley, France 100% Sauvignon Blanc
Terroir - Terres Blanches, Kimmeridgian limestone marl, similar to Champagne, Chablis, Dover. Closer to Chablis than to Nantes.
Vinification - Handpicked, whole cluster pressed (I think…), fermented in 600 liter barrels, bottled after 7 months, not fined or filtered.
Les Monts Damnes translates to The Damned Mountains, arguably best terroir in Sancerre. Located in Chavignol and operating since 17th century, thhe grandson took over in 2010.
Gadais Pere et Fils Muscadet Sevre et Maine Sur Lie 2018
Region - Les Avineaux (lieux dit), Muscadet, Loire Valley, France 100% Melon de Bourgogne
Terroir - Granite, near Atlantic coast in Nantes, at the confluence of the Sevre and Maine rivers.
Vinification - fermented in tank, aged at least 6 months on lees.
Pierre-Henri Gadais is a rather young, 5th generation winemaker (early 30's). 50% of production from the estate is exported. 47 hectares broken into 120 different plots. Copper has been eliminated in the vineyard and compost is added to the vines.
Domaine Du Viking Vouvray Tendre 2017
Region - Vouvray, Loire Valley, France 100% Chenin Blanc
Terroir - Silex, not Tuffeau that is more common in Vouvray. Northern tip of appellation.
Style - Tendre Sec or tender dry. Almost like Halbtrocken or feinherb riesling. Some residual, but lots of acid too. Sugar levels vary from year to year.
Vinification - handpicked, indigenous yeasts, stainless fermented, tank or chestnut barrels (weird) for aging, 12 months aging.
15-60 year old vines
Owned by Lionel and Francoise Gauthier
Formerly a polyculture farm with 2 hectares of vineyard
grandfather of Francois Gauthier killed by Nazis during war because he was trying to blow up train tracks.
Expanded vineyard shortly after, now 13 hectares
"It can be said without any equivocation that Lionel Gauthier can eat more sweetbreads than you can." – from Eric Solomon
Jacky Blot, Domaine de la Taille Aux Loups Triple Zero NV
100% Chenin Blanc
Certified organic
40+ year old vines
Grapes harvested at full maturity, 12°-12.5° potential alcohol
Allows for the three "Zeros"
Zero chapitalization
Zero liqueur de tirage
Zero dosage
No malolactic fermentation
Petillant naturel
One long fermentation done with indigenous yeasts
Fermented and aged in 5-10 year old barrels
Aged on the lees for 24 months