Pepiere Monnieres St Fiacre Muscadet 2019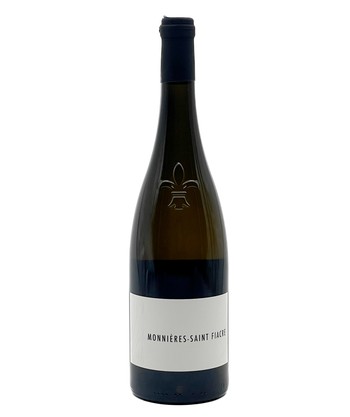 Monnières-Saint-Fiacre comes from vines planted in 1948, 1984 and 1991 to sand, limestone, and gneiss. Monnieres-Saint-Fiacre is the first officially designated cru in the Muscadet. In the past, Pépière would occasionally produce this wine as Cuvée Eden in and/or it would go into Gras Moutons. Pépière owns 3.35 hectares within the cru.
Today the estate is in very capable hands with residing proprietors Rémi Branger and Gwénaëlle Croix. Rémi is a local that Marc has known since he was a kid. When his father retired in 2005, Marc purchased his land and Rémi started as an employee in 2006. Having long realized his daughters were not interested in inheriting the estate, Marc had him come on board as a partner in 2011.
Despite having some of the most varied terroirs and micro-climates in all of France, the Muscadet remains a region of scale and bulk dominated by large négociant operations. One could optimistically opine that its' strength lies in blending all of its terroir into a more complex whole, but the blunt and far less charming truth is that most vignerons get paid (poorly) for grapes by the kilo irrespective of where they are grown because négociants don't care. Even for independent estates, it is quite common to only produce a single cuvée despite the obvious variations of soil and micro-climates within their plots.
Because the appellation is heavily planted, grows only one grape and produces largely for immediate consumption, prices remain artificially low and do not encourage risk taking or breaking the mold. Despite being some of the cheapest viticultural land in all of France and home to living legends like Jo Landron, Michel Brégeon, Guy Bossard, Marc Pesnot, Luneau-Papin and of course Pépière itself, the environment remains poorly suited for small, ambitious vignerons. A young kid could easily, for example, start a four hectare estate in Anjou and find an immediate audience. In the Muscadet, they'd need at least double the surface, would still have to charge much more than the average local bottle and would find themselves fighting an uphill battle in a reticent, price driven market. It's a shame and also why you don't see a tremendous amount of new talent emerging like in other cheap areas such the aforementioned Anjou, Touraine, Roussillon, Mâconnais or the Beaujolais.
So what does all this have to do with Pépière? Well, for the few estates who have dedicated themselves to show the true potentials of Muscadet's terroirs, it's been a boon of opportunity. Over the last decade, there has been a push by the appellation to create cru designations in hopes of bolstering Muscadet's reputation. Pépière was way ahead of the curve here, with half of the estate's 42 hectares falling within the crus of Clisson, Monnières-Saint Fiacre, Château-Thébaud and Gorges. At the time this was simply Marc, Rémi and Gwen picking the most interesting vineyards. And to give perspective, the average independent Muscadet estate only has holdings of 15 to 20% within the crus.
And while 50% of the estate's vineyards fall within the cru limits, cru wines only represent an average of 15% of Pépière's annual production. In some vintages they will produce less or no cru wines at all if the quality is not there. Aging on the lees is always longer than the mandated 17 months, lasting a minimum of two years. But Marc, Rémi and Gwen have not been afraid to push it to 36 or even 48 months in some cases. All grapes within the crus not deemed up to snuff (again, around 85%) go into the the entry level "La Pépie" cuvée.
Wine Specs
Varietal
Melon de Bourgogne