Punta Crena Mataossu Vigneto Reine 2018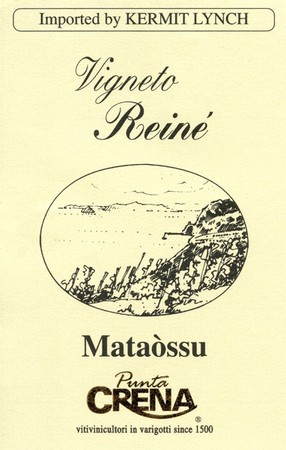 For lovers of white wine, can opening a bottle of a nearly extinct, heirloom variety be as exciting as opening a bottle of Meursault or Chablis? Yes! You can go anywhere in the world and find a glass of Chardonnay. The same cannot be said of Mataòssu. Due to its extremely limited cultivation along Italy's Ligurian coast, it is an evocative and distinct—albeit widely overlooked—expression of this widely beloved region. You can't go wrong with grilled fish or the Ligurian specialty pasta al pesto!
—Tom Wolf
About The Producer
Punta Crena
The vineyards of Punta Crena (which is named for a large promontory jutting into the sea at the edge of the village) are all within 1200 meters of the water and enjoy sea breezes that help keep the grapes healthy and happy. The Ruffino family are proud to work almost exclusively with local varietals, but they don't have much company. As a result, several of Punta Crena's wines are one of a kind: the Mataòssu and Cruvin are entirely unique, and the Barbarossa is the only one produced in Italy. They believe that their only job after the harvest is simply to avoid ruining their lovely fruit as it turns to wine. These are light, fun wines with no pretension.
Wine Specs
Varietal
Other White Wine