Vietti Derthona Timorasso 2020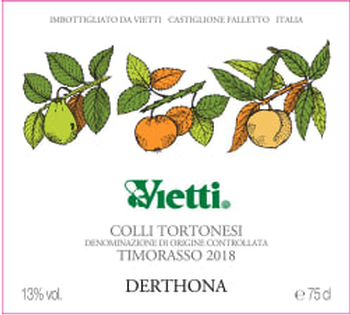 Hailing from northern Piedmont, Timorasso has long been thought an interesting native varietal with exceptional aging and evolutionary potential. After several years of experimentation and collaboration with local winemakers in the Derthona area of Colli Tortonesi, Luca and Elena Currado are proud to release their first vintage of Derthona Timorasso with the 2018 vintage.
Clear, intense yellow color with green hues. Pear and peach fruit scents. Aromas, of acacia and hawthorn flowers with typical honey notes. In some cases, after 2/3 years mineral notes are more intense and show hydrocarbons. On the palate it is dry, warm, soft and very well balanced, without edges. It has a long lingering finish with a good acidity.