Walla Walla Red Wine 3-Pack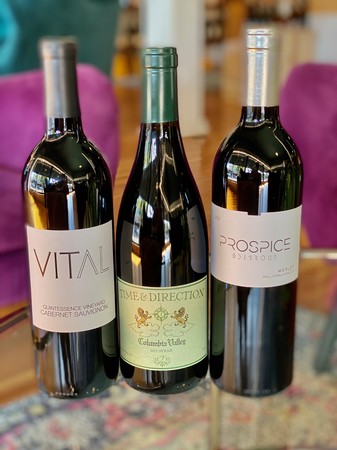 Vital Wines Quintessence Cabernet Sauvignon 2017
Vital is a non-profit winery founded by Ashley Trout of Brook & Bull working for better healthcare for vineyard and cellar workers. Many of the materials are donated by Washington state vineyards and wineries.
Time & Direction Syrah 2017
Time & Direction is a boutique, Rhone focused winery run by one-man-show, ex-sommelier, and former Thief employee Steve Wells. His Syrahs have already received high accolades from several wine publications, and he is just getting started.
Prospice Merlot 2017
Prospice Wines consists of the winemaking duo Jay Krutulis and Matt Reilly. Their first shared project was a WWCC Merlot, and now years later they continue to produce fantastic "f@#$@$% Merlot!" Take that Miles.