Walla Walla Rising Star 4 Pack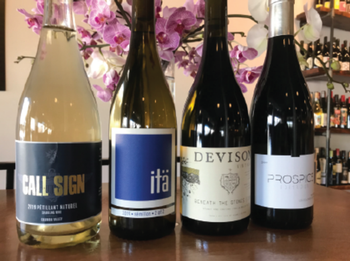 itä Wines
Kelsey Itämeri, the owner and winemaker of newly founded itä Wines, draws all of her grapes from cool, high elevation sites on Walla Wall's east side, leaning into the brisk freshness of vineyards like Les Collines (which appropriately translates to foothills), Breezy Slope, and her family's farm.
Prospice
Prospice is the creation of two friends with a shared vision for wines and winemaking. Each changed course from a prior professional career, drawn to winemaking by the impulse to craft an artisanal product. Prospice is, at its heart, a buddy story. Its co-owners/winemakers, Jay Krutulis and Matt Reilly, studied together at the Walla Walla Community College Enology and Viticulture program before founding their winery. They opened to the public in 2019, and we were immediately impressed by the elegance and definition of their wines.
Ducleaux Cellars
Toby Turlay and Chris Dukelow produce their small lot wines in their garage turned winery, continuing a garagiste tradition that has its roots in Bordeaux. They craft Rhone varietal-focused white, rosé, and red wines in their Rocks district garage, but it was their pet-nat that really caught our attention. What's more fun than impeccably made wine from a garage? Impeccably made sparkling wine from a garage!
Devison Vintners
From scrubbing tanks to dusting bottles, if it's a job in the wine industry, Peter and Kelsey Devison have probably done it. After years of making and selling wine for other folks, they recently decided to strike with a label of their own, Devison Vintners.Peter's winemaking has a light touch. He utilizes native yeast fermentation for all of his wines, and his reds are typically neither fined nor filtered. This hands-off winemaking may seem as easy as making a list of things that haven't been done, but, to quote Aubert de Villaine, one of the greatest living winemakers, "Nothing is more difficult than simplicity."