June 16, 2020 | Allan Crum
Regional Viticulture & Jet-Setting Pinot Noir & Chardonnay
Regional Viticulture - Where vs. How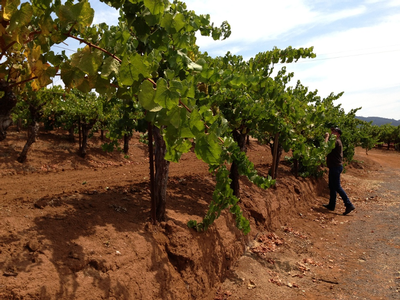 Chuy Vineyard, Sonoma Valley, Chardonnay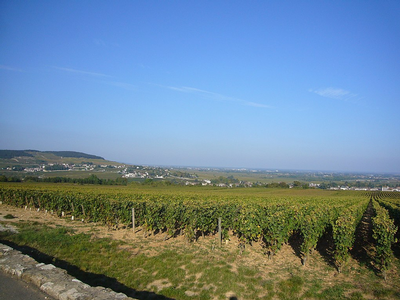 Puligny-Montrachet, Cote de Beaune, Chardonnay
Both of the above vineyards are planted to Chardonnay, though that is where their similarities end. Chuy Vineyard (RIP) was planted at very low density in a warm, Mediterranean climate with vigorous soils. The Puligny-Montrachet climat is planted at a very high density on meager limestone and clay soils in a cool, wet, continental climate. Chardonnay and Pinot Noir call Burgundy home, but they are perfectly happy in California, Oregon, or Patagonia. Grapes generally travel well (looking at you, Nebbiolo), and lucky for us they like to talk about where they are from. A tropical, full-bodied, lush Chardonnay probably comes from a warm climate, whereas a steely, lemony version most likely hails from a more marginal region.
Most winemakers will tell you that fine wines are made in the vineyard. They'll also tell you, "If you want to make Chablis, you should probably move to Chablis." Regional identity is not just about weather, soil, and aspect (what I think of as the where of a vineyard). Farming techniques, the how, can also have a huge impact on the finished wine. Just like the Cru system rigidly defines the geographical boundaries of individual Burgundian vineyards, the appellation system also sets limits on yields, styles of pruning, vineyard density, and other viticultural practices. The set-up and farming of a vineyard is the integration of people with a place. You have to answer both of the questions: the how as well as the where.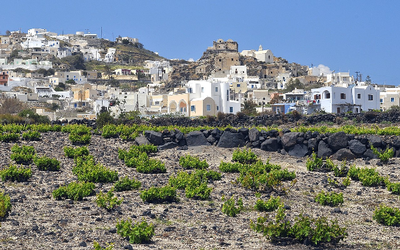 These Assyrtiko basket vines in Santorini are shaped by the black volcanic soils, the whipping winds, and the beating sun of the island. They are also literally shaped by human hands to compensate for these environmental pressures. The basket pruning protects the clusters from the wind, and the sparse planting density allows the vines to survive with very little rain. Let's explore some of the regional farming choices that create the wines we love.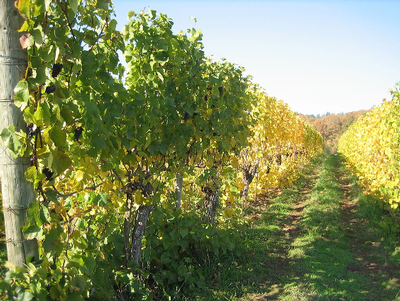 Bethel Heights Vineyard, Willamette Valley, Pinot Noir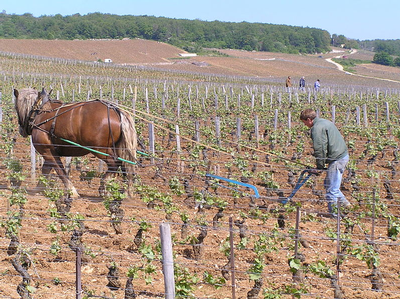 Romanee Conti, Cote de Nuits, Pinot Noir
Density
Density is the number of vines in a given area, usually calculated by acre or hectare. The Pinot Noir vineyards above show two different regional approaches. Bethel Heights, one of the oldest vineyards in the Willamette Valley, was planted at fairly low density, with wide vineyard rows and lots of space between the vines. Romanee Conti, like most of the vineyards in Burgundy or Bordeaux, is planted much more densely, with 4,000 vines per acre. This becomes consequential when we look at yield on a per plant basis. In order to produce 2 tons/acre (which is close to the maximum allowed yield for Grand Cru vineyards), each of the Burgundian vines will only have to produce 1 pound of Pinot noir grapes, whereas the vines in Oregon need to crank out 5 times as much fruit per vine!
Vine Structure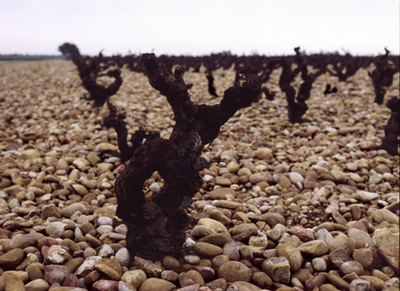 Gobelet-trained vine in Châteauneuf du Pape
Vines come in all shapes and sizes, from the tiny single-guyot vineyards of Burgundy and Bordeaux to hulking head-trained, spur pruned vines in Lodi or Mendocino, some of which have to be picked using a ladder. Each vine is touched every dormant season, usually by human hands, blending, sculpting, and farming. Oftentimes a region will have its own signature style, as in Châteauneuf du Pape's gobelet vines (Syrah is the only variety that is allowed to be trellised there, as its sprawling growth makes it difficult to head train).
Vine Material
Before the advent of certified clones, vines were propagated more like loaned books. Exceptional vines would be replicated, traded, and passed around. Many vignerons still refuse to plant certified clones, preferring to propagate massale selections from distinctive vines within their own vineyards. Pinot Noir and Chardonnay are both known for their diverse selections. There are hundreds of clones of each, some sanctioned, some illicit (suitcase clones). Oregon's early wine industry was built on the backs of just two Pinot selections: Pommard and Wadenswil. California has many heritage selections, often named after famous vineyards and winemakers (Swan, Calera, Mt. Eden, etc).
For whites, it's hard to imagine what the California Chardonnay landscape would look like without Wente clone, often called shot Wente because of its propensity for "shot" berries (millerandage). This old selection has become highly sought after because of its distinctive aromas and ability to retain acidity in California's sun.
There are many, many other cultural and regional vineyard choices that impact the way the vines grow and how a finished wine tastes, such as vineyard floor management, canopy management, or irrigation. The next time you're drinking a bottle of Pinot Noir or Chardonnay, whether it be from Burgundy, Oregon, or California, remember that you're not just tasting the grape, you're not just tasting the dirt – you are tasting the choices made at every step by the people involved.
---
Jet-Setting Pinot Noir & Chardonnay 6-Pack - SHOP HERE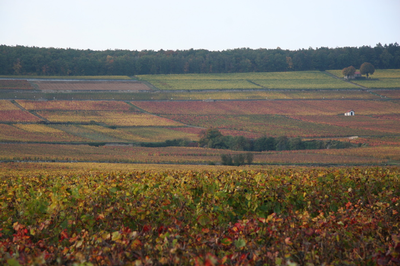 Maison Roche de Bellene Bourgogne Pinot Noir VV 2017
100% Pinot Noir
Cote de Beaune and Cote Chalonnaise
30-80-year-old vines, average 50 years old
4000 vines per acre
Clay and limestone soils
Native yeast fermentation
80% barrique aging, 20% stainless steel
Red cherry skin, strawberry, clove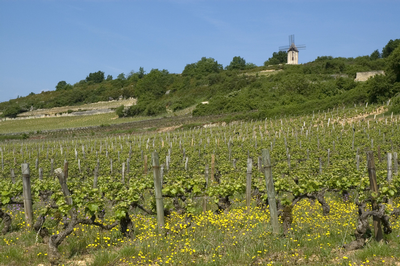 Maison Nicolas Potel Macon-Villages Blanc 2016
100% Chardonnay
Handpicked
Fermented and aged in stainless steel
Bosc pear, honey, fresh almond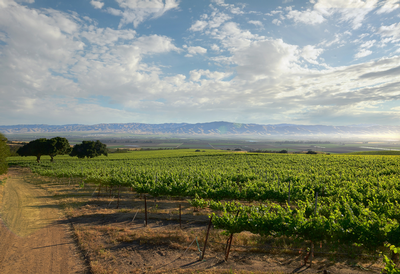 Hahn SLH Pinot Noir 2016
Santa Lucia Highlands AVA
Estate-grown
⅓ new French oak aging for 11 months
91 points WE, 90 WS, 90 points VM
Black cherry, blackberry, oolong tea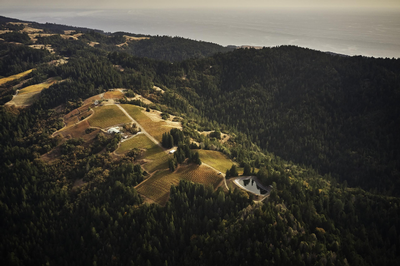 Flowers Chardonnay Sonoma Coast 2017
West Sonoma Coast
Aged in <20% new French oak for 11 months, then stainless for 3 months
94 points James Suckling, 93 points WE, 90 points WA
Orange blossom, fresh pineapple, allspice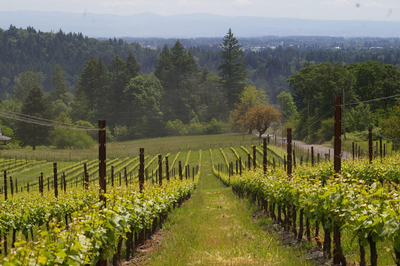 McKinlay Vineyards Pinot Noir Willamette Valley 2018
Willamette Valley AVA
Dry farmed
Native yeast ferment
Up to 25% new French oak, depending on vintage
Unfined, unfiltered
Strawberry, rose, cola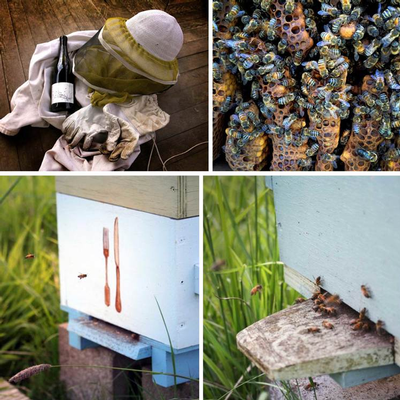 Big Table Farm The Wild Bee Chardonnay 2018
Willamette Valley AVA
Barrel fermented in French oak
Native yeast fermentation
Unfined and unfiltered
93 points James Suckling
Green apple, lemon curd, pie dough
Jet-Setting Pinot Noir & Chardonnay 6-Pack - SHOP HERE