March 10, 2021 | Allan Crum
Discover FUSO, Italian Terroir and Workhorse Wines
SHOP FUSO TRAVEL ITALIAN TERROIR 6-PACK HERE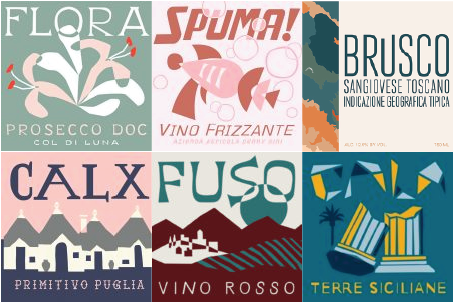 Spring is coming. Winter doldrums are being beaten back into dark cupboards, attics, and basements to hibernate until next year, and vineyards around the northern hemisphere are waking up. Dry January is a distant but surprisingly clear memory, and we are all, hopefully, drinking wine again.
Now, I love a nice bottle of Champagne to celebrate a promotion or birthday, and I enjoy savoring a bottle of Barolo that's older than I am. Unfortunately, I'm typically working with a Prosecco or Langhe Nebbiolo budget. Lucky for me, the shop always has a ton of fantastic budget options. So, join me in raising a glass to the Tuesday night wines, the workhorse wines, the "little wines", the three-day weekend Friday afternoon wines, the pizza and burger wines. These are the wines that got us hooked on vino in the first place.
FUSO is one of our favorite recent discoveries in the land of budget bottles. They are a company that sources wine from a wide variety of excellent growers and winemakers throughout Italy, from north in Piedmont all the way south to the island of Sicily. While they lack a regional focus, all of their wines share a consistent approach to viticulture and winemaking. Their requirements, from their website:
Delicious and terroir-driven
Made by farmers (not tank-farms)
Certified organic or practicing organic wineries in conversion
Native grapes
Native yeasts
Low sulphur (45 mg/l or less of added SO2)
Unfiltered or slightly filtered
Dry farmed
These wines are light, quaffable, chillable, sustainably grown, and the price is just right. The whole range would be awesome with a charcuterie plate featuring dry-cured salumi, castelvetrano olives, and boquerones, or any number of fancy pasta dishes. Their approachability and natural acidity also make them fantastic for tacos, cheeseburgers, frozen pizza, hamburger helper, tater tots, Thai takeout, tuna casserole, or any number of easy-button Tuesday dinners. Because even Tuesday night deserves a well-made bottle of wine, don't you think?
Col Di Luna 'Flora' Prosecco Brut
Veneto
100% Glera
Limestone and clay
In conversion to organics
Fermented for 20 days in stainless steel
No malolactic fermentation
Asian pear, green apple, cut flowers
Denny Bini 'Spuma' Frizzante
Emelia-Romagna
100% Lambrusco di Sorbara
Sand and limestone
Certified organic
Double curtain training
Native yeast fermentation with no temperature control in stainless steel for first fermentation
Bottle fermented in the spring for 30-60 days using must from the same vintage
Full malolactic fermentation
Raspberry, rainier cherry, nettle
Dario Serrentino 'Cala' Terre Siciliane
Sicily
90% Nero d'Avola, 10% Grillo
Limestone and clay
Certified organic
20-60-year-old bush vines
Native yeast fermented with 6-day maceration in stainless steel
Aged 6 months in stainless
Lightly filtered
Tart strawberry, umeboshi, coppa
Filippo Cassano 'Calx' Primitivo
Puglia
100% Primitivo
Limestone
Certified organic
20-30-year-old vines
Native yeast fermentation for 15 days, 7 day extended maceration in stainless steel
Red currant, blackberry, dried and fresh fig
Tenuta Maiano 'Brusco' Sangiovese
Tuscany
100% Sangiovese
Limestone and silt
Certified organic
15-year-old vines
Native yeast fermented for 15 days in concrete
Aged 3 months in concrete
Lightly filtered
Pie cherry, leather, eucalyptus
Walter Massa 'Fuso' Rosso
Piedmont
100% Barbera
Clay and limestone
Practicing organic
10-35-year-old vines
Native yeast fermentation for 12-20 days
Aged in concrete
Black plum, blueberry compote, balsamic drizzle
SHOP FUSO TRAVEL ITALIAN TERROIR 6-PACK HERE