August 10, 2020 |
Allan Crum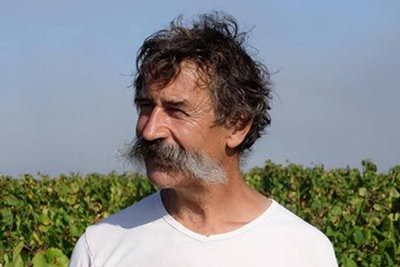 Jo Landron, Muscadet vigneron and prominent moustache owner
On Muscadet...
Muscadet might just be the summer wine. Unlike more aromatic varieties, it shows well with a serious chill. It is always refreshing, low in alcohol, and thirst-quenching. It is also (usually) very reasonably priced, so you can afford a couple bottles to get you through a sweaty summer evening.
Where is it from?
Muscadet is in the far western part of the Loire Valley, north of Bordeaux. It abuts the Atlantic Ocean, which contributes greatly to its maritime structure and salty flavor. Nantes, the nearest city, is a bustling, rainy tech hub that has been called France's Seattle.
What is it made of?
Melon B., formerly Melon de Bourgogne. For a more thorough history of the grape, including its unceremonious banishment from Burgundy, please refer to this earlier Thief blog.
What does Muscadet taste like?
Melon, a neutral grape, often tastes of orchard fruits such as green apples or pears, with a lean structure built around citrusy acidity. Muscadet's proximity to the sea causes a distinctly saline, minerally finish that makes your mouth water. Some producers age their Muscadets on lees for extended periods, providing extra weight and creamy autolytic flavors like baking bread (similar to Champagne).
What should I pair with it?
The classic Muscadet pairing is fresh oysters with mignonette, though they provide an excellent foil for nearly any seafood (particularly raw or light preparations). They also play really well with green vegetables, which can be a difficult pairing. Well-made examples pick up some golden weight as they age, allowing them to be paired with richer foods like chicken in a cream sauce or leeks au gratin.
When should I drink it?
Fresh Muscadet is delicious, salty, and quaffable, the kind of wine to drink on your porch tonight. Aged Muscadet can hold for 10 years or more, growing weightier and more complex as the years roll by. So, I guess the answer is, you should've been drinking Muscadet this whole time!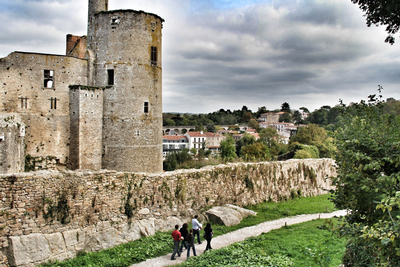 Ch. Thebaud, Famille Lieubeau
---
DEEP SUMMER DEALS for DEEP SUMMER DAYS
Chateau de la Ragotiere Muscadet Sevre et Main Sur Lie 2018
Lemon and the lightest texture are lifted by intense acidity and a lively, fresh aftertaste.
Country/Region: Loire Valley, France
Appellation: Muscadet-Sèvre et Maine
Varietal: Melon de Bourgogne
Vine Age: 25-years old on average
Domaine de la Fruitiere Cru Clisson 2014
Sourced from profoundly granitic soils that are some of the oldest in France, these wines have a lash of savory acidity and remarkable longevity.
Country/Region: Loire Valley, France
Appellation: Muscadet-Sèvre et Maine
Varietal: Melon de Bourgogne
Vine Age: 50-years old
Certified organic
Vinification: Hand-harvested, basket press, natural yeast fermentation in tank
Aging: 24 months in tank on lees
La Berriere Muscadet Sur Lie 2018
The wine is fresh and has unusual depth and minerality. Thanks to its exceptional terroir, the wine is very floral and will develop fuller flavors with aging.
Country/Region: Loire Valley, France
Appellation: Muscadet Côtes de Grandlieu
Varietal: Melon de Bourgogne
Vine Age: Up to 60-years old
Vinification: 7 months on lees with batonnage 1x each month
Vins de Vacances 6-Pack, SHOP HERE
Joseph Drouhin Rully Blanc 2016
A wine full of charm! The color is a beautiful white gold, with a ravishing purity and brilliance.
Country/Region: Burgundy, France
Appellation: Rully, Côte Chalonnaise
Varietal: Chardonnay
Vinification: Hand-harvested, aged in French oak (20% new) for 6-8 months.
Certified organic
St. Cosme Little James Basket Press Pays D'OC Blanc 2018
Chateau de Saint Cosme is the leading estate of Gigondas and produces the appellation's benchmark wines.
Country/Region: South of France, France
Appellation: Pays d'Oc
Varietals: 50% Viognier, 50% Sauvignon Blanc
Vinification: Stainless steel
Ingrid Groiss Gemischter Satz Braitenpuechtorff 2018
The oldest wine-growing districtus in Austria, the Weinviertel DAC, is where Ingrid Groiss calls home. Hailing from the town of Breitenwaida, in northeast Austria, near the border with the Czech Republic, Ingrid crafts wines expressive of terroir, keeping with her family's long tradition of winemaking. She is supremely passionate about her wines, with sustainable practices in the vineyard and minimal interference of modern technologies in the cellar.
Country: Austria
Appellation: Neiderosterreich
Varietals: Rare white blend (Chardonnay, Frühroter Veltliner, Grauburgunder, Grauer Vöslauer, Grüner Veltliner, Hietl Rote, Müller Thurgau, Neuberger, Pinot Blanc, Riesling, Roter Veltliner, Rotgipfler, Sämling, Silberweisse, Welchriesling, Wiesse Vöslauer, Zierfandler)
Vinification: Hand-harvested, 7 hours maceration, 4 months on the lees in stainless steel tanks
Peyrassol La Croix des Templiers Rosé 2019
The name of the estate is the first indication of its long, illustrious past. Located in the heart of Provence, near routes traveled by Crusaders in the early Middle Ages, the Commanderie de Peyrassol was founded by the Knights of Templar who were dedicated to protecting the Crusaders en route to, and in, the Holy Land.
Country: France
Appellation: Provence, IGP Mediterranee
Varietals: Cinsault and Grenache
Domaine de la Patience Rosé Nemausa 2018
This family estate located in the Costières de Nîmes takes its name from a wild, aromatic herb "La Patience" that can be found throughout the vineyard.
Country: France
Appellation: Costieres de Nimes
Varietals: Grenache and Cinsault
Vine Age: 20 years
Vinification: Fermentation in stainless steel, aging in concrete vats
Certified organic
Figuiere Mediterranee Rosé 2019
Over a period of 25 years, the Combard Family has grown Figuière to its current size of 210 acres. Additionally, Figuière produces an entry-level tier of wines called "Méditerranée" using meticulously selected grapes sourced from négociants. The perfecting touches of maturing and blending are carried out in the domaine's cellars.
Country: France
Appellation: Provence
Varietals: 40% Grenache, 30% Cinsault, 20% Syrah, 10% Cabernet Sauvignon
Vine age: 10 – 15 years
Vinification: Stainless steel fermentation