May 28, 2020 |
Allan Crum
Shop our Chillable Reds 3-Pack HERE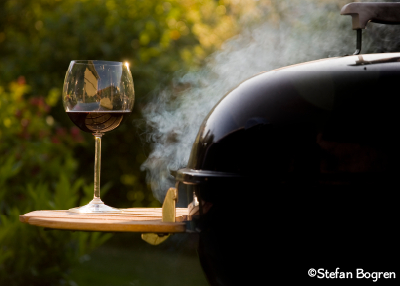 It's starting to feel like summer. The temperature is going up, the days are getting longer, and the neighborhood streets of Walla Walla all smell like grilling. I love grilling vegetables, but this time of year screams "MEAT" to most folks.
Let's set the scene. Our recent isolation has given us a lot of time for culinary innovation. "This marinade has 21 different ingredients, 37 steps, and takes 4 days. Perfect." The day has been hot, into the 90s, so it is still pretty warm when you fire up your grill. You've got some steaks, pork chops, whole goose, or bison flanks from your local butcher shop, and you've lovingly brined, marinated, dry-rubbed, or sauced them for days on end, until your family members/pets have grown jealous and hungry in equal measures. You flash sear your steaks, or you use indirect heat for your pork, or you cook your bison flanks on a giant Frankenstein grill that you made out of the parts of old broken grills you had sitting in your yard because, COVID DIY. When the time comes, you pull your meat to let it rest (you're going to let it rest, right? It's how you show the meat that you're not an animal, right before you devour it with your bare hands), and you look around for a beverage. A cold beer would be nice, and a frozen margarita would be just fine, but you want something that is going to slake your thirst AND complement the meal that you've been working on for the last week. So instead, you reach into the cooler and pull out a chilled bottle of red wine, the perfect pairing for your meaty grill-stravaganza!
What makes a red wine chillable?
Fruitiness, acidity, low tannins, and low new oak. These are wines of refreshment, wines for drinking (vin de soif) rather than pondering or aging (vin de garde). Pinot Noir, Gamay, Austrian reds like Blaufränkisch and Zweigelt, Loire Valley Cabernet Franc, Côt (the local name for Malbec), Grolleau, or Pineau d'Aunis, Frappato from Sicily, Tibouren from Provence, etc. Any light to medium-bodied red will do in a pinch, and almost anything made using carbonic maceration or other less extractive winemaking techniques is perfect.
How cold should I go?
Shoot for 50-55 degrees. Any colder than that and the wines will become muted and inexpressive. I usually do 30 minutes in the fridge or 10-15 minutes in an ice bath. If you overshoot your mark, don't sweat it. Wine warms up fastest in your glass!
Which wines should I avoid chilling?
Anything heavy, high in alcohol or tannin, or aged with lots of new oak. Chilling makes tannic wine appear more tannic, even metallic. Cabernet Sauvignon (though there are some examples from Saumur, and even Willamette Valley, that would work), Argentinian Malbec and Nebbiolo are examples of wines that show best at a slightly higher temperature.
I slow-cooked some pork on the grill last weekend, and I served it with a lightly chilled Beaujolais-Villages. It turned out great, so I thought I'd pass along the recipe. Remember to keep calm, stay safe, chill down, and grill on.
Pork Brisket with Miso-Marinated Walla Walla Spring Onions
The meat:
1.5-2 lb pork brisket
1 tablespoon kosher salt
1 teaspoon dry mustard
1 teaspoon paprika (smoked, picante, whatever)
¼ teaspoon cayenne
¼ teaspoon ground black pepper
2 teaspoon brown sugar
Combine salt and spices. Rub down pork, refrigerate for at least 3 but up to 24 hours.
The onions:
6 Walla Walla Sweet Spring Onions
¼ cup miso paste (white, red, whatever you've got)
¼ cup mirin (may substitute ¼ cup white wine with 1 tablespoon of sugar added)
2 tablespoons rice vinegar (may substitute apple cider or white wine vinegar)
1 tablespoon grated ginger
1-2 tablespoon grated garlic
Couple drops sesame oil
Combine marinade ingredients, whisking until smooth. If the marinade seems thick, thin it out with some water and more mirin/wine. Remove the stems from your onions (these can be used in soups, salads, or as garnish) and quarter lengthwise, maintaining the basal plate by the roots so that the quarters will stay together on the grill. Combine your onions and marinade in a plastic bag or dish. Marinate for at least 3 but as many as 24 hours, occasionally recoating the onions with the marinade.
On the day:
Heat your grill or oven to 250-300 degrees using whatever mastery of fire you prefer (propane, indirect charcoal, electricity, frankenstein bison hibachi, etc). Wrap your brisket tightly in aluminum foil so that no juices can escape (you need the juices later!!!). Grill or roast your brisket at 250-300 for between 2 and 3 hours, until an internal temperature of 200-205. Remove your brisket from the grill, cut a hole in the aluminum foil, and drain out the precious juices. Mix the juices with an equal measure of store-bought sauce, whatever you prefer. This will become the mop sauce for your pork.
While your brisket is resting, grill your onions. Mine took about 10 minutes, but every grill is different. I recommend a bit of color.
When your onions have finished, crank the heat and remove your pork from its aluminum foil. When the grill is up in the 400-500 range, throw the pork back on the grill, along with a thorough basting with your mop sauce. Give it about 5 minutes on this side, saucing occasionally, before very carefully (because it is going to be very tender at this point) flipping it over and basting the heck out of the other side. When it has picked up some color and looks saucy and delicious, pull it off the grill. It is time to eat. Pop a bottle of chilled red wine, grab a hunk of tender pork brisket and some grilled miso onions, and dig in. Also, maybe a salad?
Weninger Blaufränkisch Kirchholz 2015
Burgenland, Austria on the Hungarian border
Vines up to 60-years old
Gravelly clay loam
Biodynamic viticulture
10-day fermentation in concrete
Aged 20 months in 500l barrels
Very low sulfur, 0 parts free

Domaine des Chers Saint Amour 2018
Cru Beaujolais
91 points Wine Enthusiast
4,000 vines per acre
Gobelet vines
Decomposed granite soil
Handpicked
8-9 day carbonic maceration
6-month maturation in cement tanks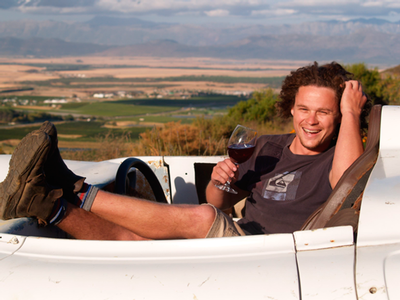 J.H. Meyer Pinot Noir No Sulfur 2017
Elgin Valley, South Africa
Johan Meyer, aka "Stompie", recently named a "Top 10 South African Winemaker to Watch"
A blend of three vineyards, Palmiet, Elands Rivier and Klein Rivier
Organic viticulture
100% whole cluster ferment
Zero winemaking additives, including SO2
Get all 3 for just $69 HERE