March 25, 2020 |
Allan Crum
Chenin Blanc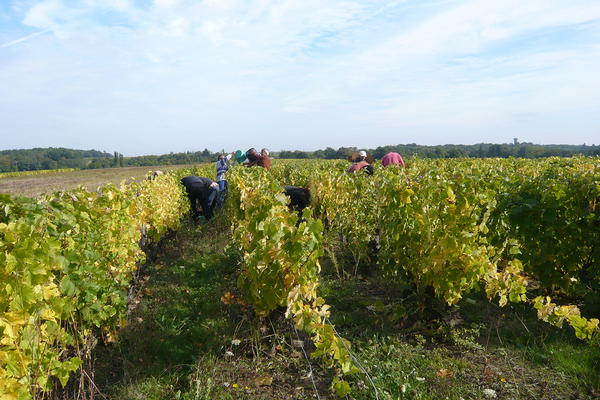 Harvest at Domaine du Viking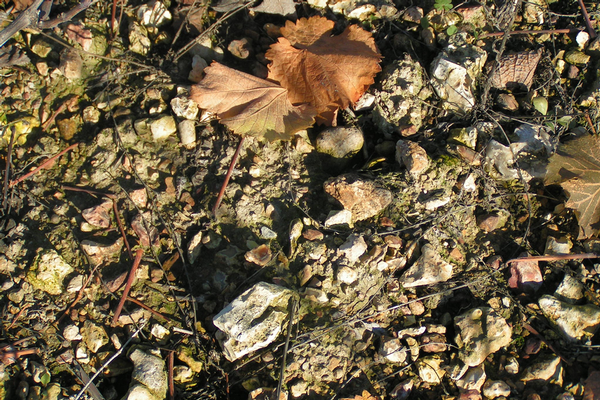 Silex flint soils at Domaine du Viking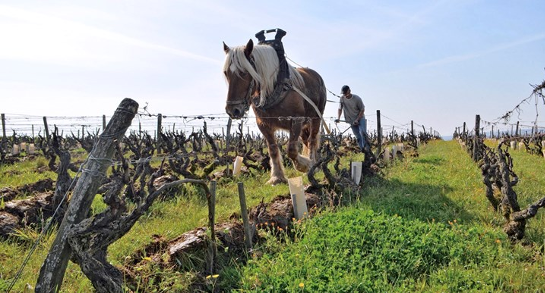 Plowing at Huet
Quick, name the most versatile wine grape you can think of. A grape that conjures operatic roars from traditionalists, yet also makes the hipsters quit slouching and sit up in their 1chairs. A grape whose dry wines offer depth and lift in equal measures, like lightning striking the ocean. Whose sweet wines can last for generations 2. A grape that makes brilliant sparkling wines with pedigree, age-ability, and vintage statements. A grape that was planted extensively in eastern Washington during the early years of vineyard establishment, championed by Walter Clore. This grape, of course, is…
Shouts from the assembled digital crowd - "Riesling!!!"
Chenin Blanc!
Ok, you're right, I forgot about Riesling. Fine, Chenin Blanc is one of the most versatile wine grapes. Would you like wines of "punk rock violence, yet of Bach-like logic and profoundness", to quote the estimable Becky Wasserman? Chenin can do that. Do you need a vine you can crop at 10+ tons/acre while maintaining acidity? Chenin can do that too, Mr. California Chablis. The Dutch brought Chenin Blanc to South Africa in the 17th century to ward off scurvy and boredom, and it is still the most planted variety in that country. The Central Valley of California crushed 300,000! 3tons of Chenin in the late 80's. From stubby bush vines in the deserts of the Swartland, to tight, temperate rows in the Willamette Valley, Chenin Blanc can go anywhere and be anything.
Though it travels well, the Loire Valley is Chenin's home. There are references to it as far back as the 9th century, which, I am told, was a very long time ago. If the Loire is its home, then the village of Vouvray is Chenin's bedroom, complete with Ramones posters and Dead Kennedys stickers. The ultimate punk rock empress of wine, one Jancis m-fing Robinson MW, wrote in her mandatory tome The Decline of Western Civilization 4, "Vouvray is Chenin Blanc, and to a certain extent, Chenin Blanc is Vouvray." Vouvray contains all of Chenin's multitudes 5 (dry, off-dry, sweet, very sweet, sparkling, red 6), as well as many of its greatest individual expressions. The biodynamic wines of Domaine Huet are probably the most famous in Vouvray. They cover the full stylistic range, and their sweet wines are especially well known for their capacity to age. Their vineyards, planted on the soft local limestone known as tuffeau and harvested in multiple passes (or tries), produce what many would consider the archetypical moelleux (soft, aka sweet) Vouvray.
The Chenin vines of Domaine du Viking dig through hard silex flint that is only found in the very north of the appellation. There, Francoise and Lionel Gauthier vinify their Vouvray in the sec tendre style (tender dry), similar to a halbtrocken Riesling. There is some residual sugar here, but it is well balanced by Chenin's brilliant acidity. The Domaine's importer has this to say of Lionel Gauthier's winemaking prowess - "It can be said without any equivocation that Lionel Gauthier can eat more sweetbreads than you can." A glowing endorsement if I ever heard one.
Chenin's versatility lies with that acidity. If picked underripe, it can be bony and puckeringly tart7. It maintains this acidity late into the season while adding heft and curves to its bones, draping itself in waxy pome fruit while never losing that structural framing. The best Chenins are like an orchard next to an apiary, or like you thought a quince might taste before you'd actually tasted one. Botrytis might bring ginger and honey to the party, and the low so2 crowd might bring mixed nuts, but Chenin will bring acidity with it wherever it goes.
---
Notes From the Author
[1] Ok, you caught me, "our."
[2] The 1947 Huet was named one of the 100 greatest wines ever by Decanter magazine.
[3] That's 40,000 more tons than all of the grapes crushed in Washington in 2018, our largest harvest ever.
[4] Or was it The Oxford Companion to Wine?
[5] I believe Walt Whitman wrote I Sing the Body Electric while sipping a particularly glowing Vouvray
[6] Jk, although the rare red grape Pineau d'Aunis is sometimes known as Chenin Noir
[7] "One of the nastiest wines possible" according to Oz Clarke.
---
Sauvignon Blanc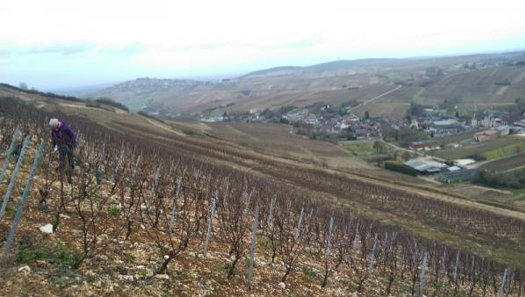 Monts Damnes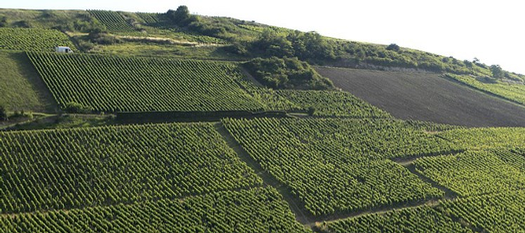 Photo Courtesy of Rare Wines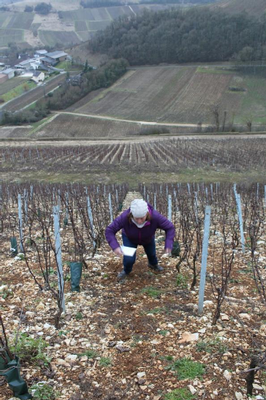 Monts Damnes
This is the story of a vineyard in Sancerre that has been forgotten in plain sight. A vineyard that checks all of the great terroir boxes: originally planted in the 10th century by very thirsty Benedictine monks, precipitously steep south-facing hillside that wouldn't look out of place in Cote Rotie or the Mosel, bright white limestone soils1studded with freakin' fossilized sea shells2, old vines tended by hand out of necessity on said black-diamond steep hill, with a name like a Norwegian metal band, in the best village in one of the best regions for white wine in all of France. Somehow, wines from the vineyard of Les Monts Damnes, translated literally to the Damned Mountain, the greatest terroir in Chavignol, are criminally undervalued. For now.
Outside of the wines from a couple of visionaries like Didier Dagueneau and Edmond Vatan3, very few wines from Sancerre are considered vin de garde. Most Sancerre is fresh and immediate, as easy to slurp as it is to pronounce, and we love it unabashedly. The wines from Monts Damnes are different animals altogether. It starts, as always, with the vineyard. As mentioned, the slopes of Monts Damnes are so steep that some producers provide cushions for their pickers to sit on while they slide down the hill. It's a hill made for skiing4 rather than planting, and many vignerons allow grass cover crops to grow between the vines to prevent erosion. The southern aspect and extreme pitch maximize sun exposure for the vines, allowing for greater ripeness than in the flats of Touraine.
Producers use more wood for fermenting and aging Monts Damnes than in the rest of Sancerre. Young Matthew Delaporte of Domaine Delaporte uses large format5 used oak barrels on his Monts Damnes. His family has operated in Chavignol for more than 300 years, but the 31-year-old winemaker refuses to rest on his laurels, converting his vineyards to organic certification6, allowing full malolactic fermentation, and extending the lees aging of his finest cuvees up to 12 months. His tweaked vinification, which mirrors the efforts of regional stalwarts like the Cotat cousins Francois and Pascal, embraces the substance and heft that this site provides.
Accordingly, the wines from Mont Damnes are richer than your typical gooseberry and nettle Sancerre, with yellow fruit, ripe citrus, and a resinous density that would not seem out of place in good white Burgundy. This is the sort of lazy comparison that normally drives me crazy, a shorthand way of saying that this white wine is delicious and complex now and will remain delicious and complex for several more years, but I just can't shake it. And maybe I shouldn't. Chavignol is closer to Chablis than it is to Nantes. The soils are the same, clay and limestone marl over an ancient seabed. Most importantly, the wines of Monts Damnes, like the wines of Les Clos, taste more of the place they are from than the grape they are made of. Les Clos doesn't really taste like Chardonnay, it tastes like Les Clos. Monts Damnes doesn't taste like Sauvignon Blanc. It might not even taste to you like Sancerre. More than anything, it tastes like the Damned Mountain.
---
Notes From the Author
[1] Terres blanches, the same soils as Chablis, which is less than 75 miles away.
[2] That everyone says you totally can't taste, but the itty bitty shells are right there, and it's so rocky, and naaah naah naah, I can't hear you, minerality, minerality, minerality! Ok, fine, it tastes salty. Happy?
[3] Both of whom source their Sancerres from Monts Damnes
[4] Imagine slaloming among meter by meter plantings of old vine Sauv Blanc!
[5] 600l demi-muids
[6] "We have also stopped feeding the vines like at McDonalds." - Matthew Delaporte
---
Muscadet (Melon de Bourgogne)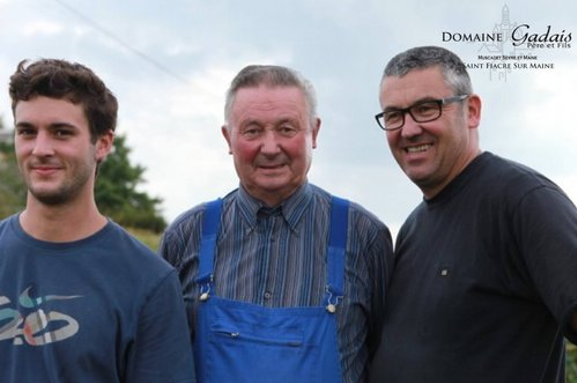 Photo Courtesy of Weygandt-Metzler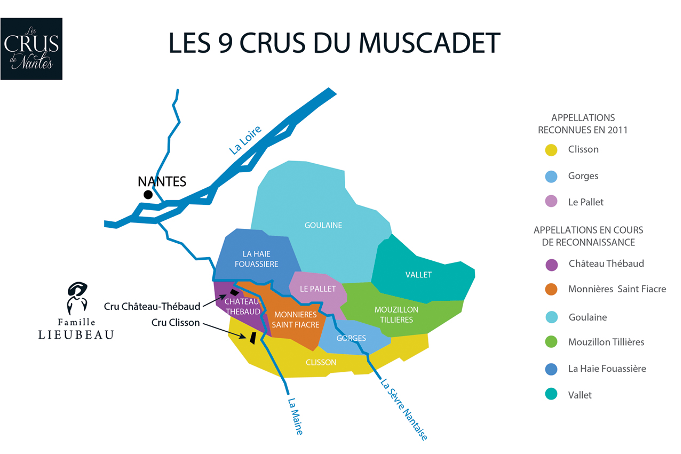 Muscadet, for better or worse, has been defined by what it is not. Not heavy, not oaky or buttery, not overly fruity, certainly not expensive. A neutral, rather than aromatic, white. A wine so transparent that it is best known for the turbid solids that it ages beside, the pillowy spent yeast cells of sur lie aging that are cast aside at bottling. Muscadet can be ephemeral if it is treated dismissively, seeming to exist only in the spaces between oysters. Its transparency, though, is also its greatest strength, enhancing and exaggerating the regional differences among Muscadet's 9 newly established crus like a terroir-magnifying lens.
Muscadet only has one grape - Melon B, formerly Melon de Bourgogne. This lattter name was confusing for several reasons1, not the least of which being that Melon is not grown in Burgundy, at least not anymore. Melon's tumultuous relationship with, and eventual banishment from, Burgundy mirrors another of our favorite grapes: Gamay. You could say that they both got Beauned. Gamay was famously cast out of Burgundy by Phillipe the Bold in 13952, while Melon lasted until the 18th century before being evicted because of overproduction3. Melon and Gamay didn't just get kicked out of the same childhood home; in fact, they're siblings! Melon, Gamay, Chardonnay, Aligoté, and countless other varieties resulted from crosses between the aristocratic Pinot4 and the nearly extinct Gouais Blanc, which was a grape of the peasantry.
While Gamay was able to find a new home just to the south of the Cote d'Or, Melon landed 600 km west, as if Burgundy tried to throw it into the Atlantic Ocean and came up just short. Here, in one of France's most marginal climates, Melon's productivity and hardiness were welcomed by a local wine industry rocked by winter kill. It was here, around the city of Nantes on the coast of Brittany, that Melon met "la mer".
Wines grown near the ocean, from Ligurian Vermentino to western Sta. Rita Hills Pinot Noir5, often taste salty, and Muscadet is no different. If oysters remind me of eating the ocean, then Muscadet is like drinking it6. When young, its nerviness makes it "the quintessential springtime wine," according to Richard Hemming MW, a wine that pairs as well with delicate spring produce as it does with Cthulhu pulpo. Save some in your cellar and you will be rewarded with one of the great wine transformations. Aged Muscadet maintains its transparency and vitality while adding a warm sepia lens. Its briny origins and maritime structure remain, though the ocean grows as honeyed and round as if you spun cotton candy from seawater. Muscadet vigneron Jo Landron describes it as, "sugared, but with no sugar." I can't help but taste Burgundy by the sea.
---
Notes From the Author
[1] And has led me down some youtube rabbit holes that started in Muscadet vineyards and ended in a Dijonaise backyard looking at canteloupe.
[2] His description of a "very great and horrible harshness" makes me wish I could pour him a silky, pillowy glass of Lapierre Morgon.
[3] The same complaint levied at Gamay.
[4] Either Noir, Gris, or Blanc, which are genetic variations of the same grape rather than distinct varieties. I'm not an ampelographer, I don't make the rules.
[5] See also: Santorini, Corsica, Tenerife, Cassis, the west Sonoma Coast, Chile's Casablanca Valley, parts of Rias Baixas and western Galicia, Madeira, etc.
[6] Do not attempt to drink the ocean.