June 23, 2020 |
Allan Crum
Grenache Innovation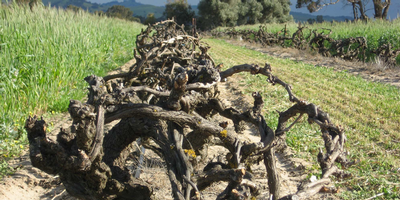 The oldest Grenache vines in the world, planted in 1848, McLaren Vale, Australia
"Yes, there are some pretty things in life."
-Louis Reynaud, Chateau Rayas, over a glass of Grenache.
Grenache is a warm hug in the sunshine from an old friend. It's a joyful variety, filled with red fruit and spice draped in a soft, silky texture. Unlike Pinot Noir, another thin-skinned variety, it is precocious and generous, sometimes to a fault. In fact, one of the few criticisms of Grenache is that it often carries too heavy of a crop. Randall Grahm, Grenache innovator and enthusiast, says that it "really walks a fine line between elegance and rusticity."
As a vine, it thrives in hot, dry, windy locales where less exuberant varieties would struggle. Grenache probably hails from the Spanish region of Aragon (also known as Strider, ranger of the North) between Madrid and Barcelona, though Sardinia also claims it as its own (known regionally as Cannonau). It swiftly spread throughout the world's Mediterranean climates. In France, its pepper and raspberry intensity became the hallmark of southern Rhône blends like Châteauneuf-du-Pape and Gigondas. Grenache was also used to bolster prestigious wines from regions with more marginal climates: 19th and early 20th century negociants in Burgundy bought large quantities of Gigondas to stiffen and sweeten poor vintages of Pinot Noir (much like the relationship between the Bordelaise and the sturdy Syrahs of Hermitage).
Grenache was planted around the same time in Australia, especially in the Barossa Valley and McLaren Vale, for fortified wine production. While the Australian government has occasionally subsidized vine-pulling, many old vineyards still endure, including the oldest commercial Grenache vineyard in the world. Taras Ochota, owner and winemaker of Ochota Barrels, started his company with a 70-year old Grenache vineyard he named Fugazi (after an 80s rock band formed by Ian MacKaye, a famous teetotaler). He discovered the vineyard during a heat spike. Younger surrounding vineyards were struggling with the heat, but the deep-rooted old vines were verdant and healthy, with small clusters of intensely flavored fruit.
Age seems to tame some of Grenache's difficult tendencies throughout the world. Patrick Comiskey described early efforts in California as "a large-pawed puppy that refused to settle down. While you might appreciate the exuberance, you may long for a little gravitas." Age brings yields down, trading exuberance for efficiency (like it often does in us as well).
Grenache is one of the few varieties that everyone in the shop seems to love. As a thin skinned, low acid variety, the wines are unique in that much of their structure comes from their ripeness and alcohol. Some producers, especially old-school producers in the Rhône and the new kids on the block in Australia, use whole cluster fermentation to fortify the tannins of Grenache. Earlier picked examples often smell like fresh strawberries and white pepper, while riper examples can lean towards black cherry or currant with accents of licorice root. Regardless of the country of origin, ripeness, or vinification, a glass of Grenache should always be fun.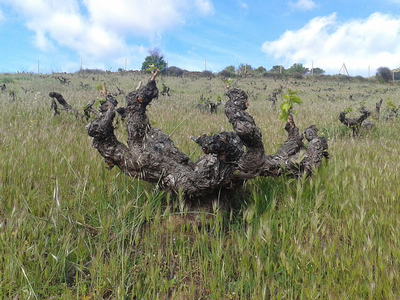 Sierra de Gredos, Spain
---
Groovy Grenache 3-Pack, SHOP HERE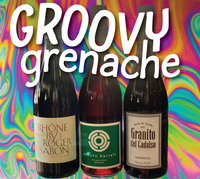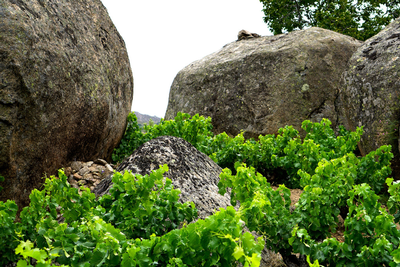 Granito del Cadalso 2017
Vinos del Madrid
Bodega Cooperativa Cristo del Humilladero, co-op of over 400 families
Winemaking consultation by Dani Landi and Fernando Garcia of Comando G
100% Grenache
20-70 year old vines
15-20 day maceration in concrete
Aged 6 months in concrete
92 points Jeb Dunnuck
Raspberry, orange peel, jamon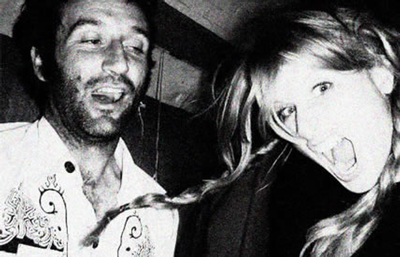 Ochota Barrels The Green Room 2019
Mclaren Vale
82% Grenache, 18% Syrah
Planted 1946
Limestone and schist
85% whole cluster fermentation
28-88 day maceration
Aged 2 months
Unfined, unfiltered
Red plum, black cap, thyme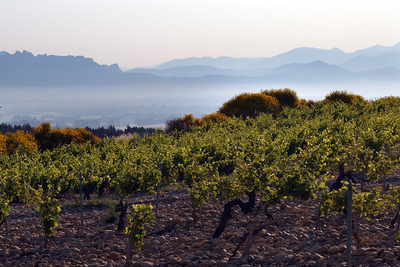 Rhône By Roger Sabon 2017
Cotes du Rhône
85% Grenache, 10% Syrah, 5% Cinsault
Clay and limestone
10-15 day maceration
Aged 6 months in tank
91 points Jeb Dunnuck
Raspberry, dried strawberry, fennel
Groovy Grenache 3-Pack, SHOP HERE