September 11, 2020 |
Allan Crum
Scroll Down for Links to Shop
"France's most physically messianic winemaker…" "Dagueneau glared at tasters; he poured samples with studiedly curt swiftness; all questions were met with monosyllabic replies. He would rather, one felt, have been racing huskies in Finland (as he did for three months the following winter). His wines smelled not of Sauvignon Blanc, nor of gooseberries or asparagus or of micturating felines, but of......Spring. Sipping the Buisson Renard was like standing beneath a waterfall: the flavours were clean, limpid, eerily palpable, a soft shock. The Silex was not the parody flintlock of popular myth; it was pure, sappy, soaring, rich, finishing with just a hint of stone after rain. I had not been expecting this calm and majestic retreat from the varietal. I learnt something new." Andrew Jefford, The New France
"Due to a titanic level of work in the vineyard, his pure-bred Sauvignon Blancs act like a terroir sponge." Michel Bettane, Le Grand Guide des Vins de France
"I had a few scores to settle with the family,' he said. 'So, I decided to make wine, to make better wine than them. That was my first motivation. So, I decided to make the best Sauvignon Blanc in the world. Not at all pretentious for someone who's been making wine for two years." Didier Dagueneau, in Decanter
"In my opinion, 80% of the growers are thick and lazy." Didier Dagueneau, to Jancis Robinson
Exacting. Motivated. Perfectionist. Iconoclast. Daredevil. Hirsute. Didier Dagueneau looms over the Loire Valley appellation of Pouilly-Fumé 12 years after his death, as famous for his strutting rejection of conventionality and his neighbors' still ruffled feathers as for his transcendent Sauvignon Blancs. In an era of chemical farming and overcropped, watery wines, Dagueneau demanded parsimonious yields and delicate, labor-intensive handwork in the vineyard, employing one worker for every 2.5 acres (the same ratio as Domaine Romanee-Conti). He forsook his family domaine in favor of establishing his own, forging a reputation for both brilliantly expressive single parcel cuvees and brutally frank opinions. Finally, he rebuffed the orthodoxy that Pouilly-Fumé and other Sauvignon Blanc based wines were meant for early consumption. His first wines from the mid-80's are still (reportedly) drinking quite well.
After a short career as a motorbike racer (he retired after two severe crashes), he turned to winemaking, establishing his domaine with rented vineyards beginning in 1982. He would slowly add cuvees throughout his tenure, beginning with his flagship Silex (named for the siliceous terroir it is planted on) in 1985, and continuing until his 2006 acquisition of a small plot in the storied Sancerre vineyard of Monts Damnes, overlooking Chavignol. Didier's winemaking idols included legendary producers Edmond Vatan of Sancerre and Henri Jayer of Vosne-Romanee, vignerons renowned for marrying transparent site expression to a singular house style.
Dagueneau, forever restless, experimented over the years with native yeast fermentation, extensive battonage, a low sulfur regime, and various types of oak, but the domaine's core principles always remained the same. It began with massal selection vines pruned very aggressively, producing less than half the total yield allowed by the appellation. A practitioner of organics and biodynamics (though not certified; Didier did not mix well with bureaucracy), herbicides were eschewed in favor of plowing, whether by horse (he was one of the first growers to revive the practice, well before DRC adopted it) or tractor. At harvest, Dagueneau's late harvesting and rigorous selection led to phenologically ripe wines without the damp heaviness of rot and botrytis. Elevage always took place in oak, though the vessels' size and shape varied considerably over the years. Didier is famous for pioneering the use of 350l oblong "cigar" barrels with very low levels of toast, which allowed the piercing minerality and Satnav terroir of his cuvees to shine.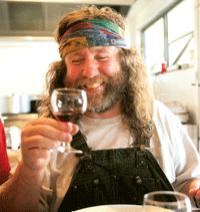 "A chip off the old Silex"
When Didier Dagueneau died following an ultralight plane crash in 2008, many assumed that his domaine was doomed. Louis-Benjamin Dagueneau, having studied with biodynamic Loire luminary Francois Chidaine and Olivier Jullien of shop favorite Mas Jullien, was ready to strike out on his own, much like his father before him. Instead, Louis-Benjamin took up his father's considerable legacy, expanding upon the domaine's fame with a string of successful vintages that have left some wondering if the son has surpassed the father. The vineyards are cared for with the same laborious intensity, and the work in the cellar has only become more precise and translucent. Methinks his father would be proud.
"Didier was more than a light, he was a natural phenomenon, a storm, a commotion and a celebration in a world that is often too dull and glum."..."Yes, he was bigger than life. But Dagueneau was a man who didn't suffer fools and clichés lightly." Joe Dressner
Dagueneau wines currently available at The Thief: