July 27, 2020 |
Allan Crum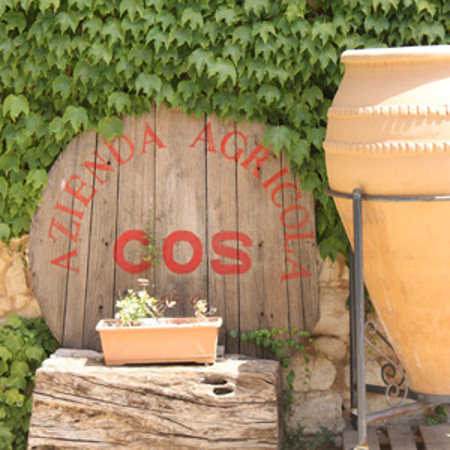 We love the pyrotechnic wines of Mt. Etna, but it would be a shame to forget about the wines from the rest of Sicily. The shop just received a large shipment from one of our favorite Sicilian producers: COS. This is the hottest week of the summer so far, so it seems appropriate to daydream about olive trees, fried eggplant, and spicy wine.
COS was founded in 1980 when three friends purchased an old estate in Vittoria, in southeastern Sicily. At the time, they were the youngest producers in the region. Sicilian wine was just beginning to wake from its post-phylloxera, post-war slumber, and its wines were often marked by a tarry rusticity that is the hallmark of inelegantly made Nero d'Avola. COS quickly established a new paradigm with fragrant, energetic wines based on two local red varieties: Nero d'Avola and Frappato.
Nero d'Avola is the darker varietal of the two. Giusto Occhipinti (the O in COS, and Arianna Occhipinti's uncle) likens it to Syrah. It has many of the same structural and aromatic qualities, with dark plummy fruit, black pepper, and violets, as well as the ability to retain acidity in Sicily's warm Mediterranean climate. Frappato is lighter, with red berries (especially strawberry) and intense florality, reminiscent of Cru Beaujolais.
COS bottles several monovarietal renditions of Nero and Frappato, but the varieties really shine when they're blended. Sicily's only DOCG, which COS was instrumental in establishing, is Cerasuolo di Vittoria ("cherries of Vittoria"), which must be a blend of 50-70% Nero d'Avola and 30-50% Frappato. Nero d'Avola provides structure and density while Frappato brings lift and aromatic potency. This inherent balance, especially when combined with limestone soils and COS's attentive organic viticulture, makes for a sun-kissed, unabashedly Mediterranean wine with surprising vivacity and freshness.
Their pursuit of freshness does not end in the vineyard. COS was one of the first wineries in Italy to revive the ancient practice of fermenting and aging wines in unlined terracotta amphora (that's big clay pots to you and me). The amphoras are neutral vessels that allow the wine's fragrance to shine without the obstruction of oak, while their porosity provides small amounts of oxygen (as opposed to an anaerobic stainless steel tank).
The wines of COS are distinctive and iconic (much like their squat, old-timey bottles), and they have helped to revive the winemaking industry in Sicily. Fry up some eggplant, boil some pasta, and enjoy a bottle or two as the summer heat shimmers.
Click red names to shop:
Some of our other favorite Sicilian producers -
Arianna Occhipinti - the student becomes the master. Arianna formed her domaine at 22, after helping her uncle for several harvests. Her wines share many qualities with COS's, from organic viticulture to cutting edge winemaking. Her Frappato is frankly Burgundian.
Feudo Montoni - a new addition to the shop. Value priced, well-made wines for a Tuesday pasta.
Il Censo - Another organic producer, inspired by Umbrian legend Paolo Bea. Deep, dark, Syrah-y Nero d'Avola perfect for roasted lamb.
Colosi - a shop favorite, punches well above its price. Screams for anything with grill marks.
Planeta - wonderfully floral Frappato makes a great red wine pairing for lighter fare, including rich seafood.
Tasca d'Almerita - Salty, spicy Grillo from near Marsala. A maritime white for squid, shrimp, or even, gasp, green vegetables.
---
Volcanic Etna Whites 3-Pack, SHOP HERE
"Etna is like an immense house cat who quietly roars and sometimes wakes up, yawns, with sluggish stretching and, of a distracted paw, now covers a valley now another, erasing villages, vineyards and gardens. And just as Eliot's cats have three different names: Etna, Mongibello, and the third secret. Immense. " Leonardo Sciascia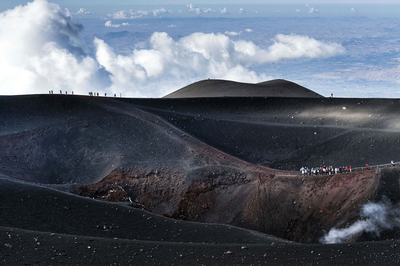 Tenuta di Fessina Erse Etna Bianco 2016
Named for the Greek goddess of dew
80% Carricante, 20% Catarratto and Minnella
Volcanic sand
50-100 year old vines
3,000 foot elevation
Fermented and aged in stainless steel
91 points WE, 90 points VM
Lemon, green pear, verbena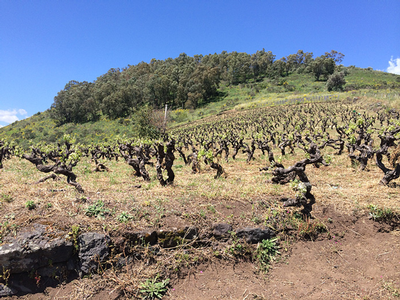 Benanti Etna Bianco 2018
100% Carricante
Volcanic sand
East and South Etna
Fermented and aged in stainless steel
2,000-3,000 foot elevation
20-60 year old vines
Green apple, white flowers, smoked salt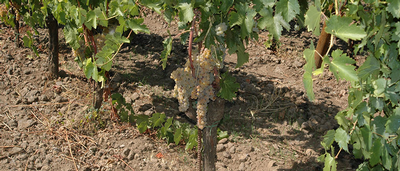 Tenuta de la Terre Nere Etna Bianco 2018
60% Carricante, 25% Catarratto, 10% Grecanico, 5% Minnella
Volcanic sand
North side of Etna
25-60 year-old vines
Certified organic
Fermented and aged in stainless steel
93 points JS
Dried apple, preserved lemon, sea spray