October 30, 2020 |
Allan Crum

"Every vigneron should accept his wines as they are in reality, and not how he wants them to be." - Jules Chauvet
This industry has many fantastic winemakers, individuals with the technical expertise to wring fantastic wine from average raw materials. There are far fewer great wine thinkers, vignerons who advance their craft with their minds as well as their barrels. Eric Texier is one of my absolute favorite wine thinkers, and like his Macconais mentor Jean-Marie Guffens, he is not at all afraid to say what he thinks, regardless of orthodoxy or offense.
Texier came to winemaking later in life than some, originally working as a nuclear engineer after a childhood in Bordeaux. After an abrupt career shift and a stage with the aforementioned Jean-Marie Guffens, Texier established his domaine in 1995. At the start, his business was entirely negociant, with rented parcels throughout the Rhône in Côte Rôtie, Condrieu, and Chateauneuf-du-Pape. Eric was later able to purchase vines in the forgotten appellations of Brézème and Saint Julien-Saint Alban, in the Ardeche. The Ardeche is the southernmost section of the northern Rhône. It shares the continental climate of Cornas, Hermitage, and Côte Rôtie, but where those terroirs are defined by granite and schist, Brézème is unique in the northern Rhone in having limestone soils. Brézème was considered the equal of Hermitage well into the 19th century, but the twin devastation of phylloxera and mildew meant that less than 10 acres of Brézème was still planted by the time Texier rediscovered it. Little did Eric know, those few acres held a viticultural treasure.
"It is not a variety. It is a name that has been given two different varieties, being different group of plants grown in different valleys, different villages, by different growers but all fitting more or less in the same characteristics. These same groups were sometimes called Serine, sometimes Syrah, Ciras, Petite Serine etc, while Petite Serine or Serine may have been used in some places to describe slightly different varieties, coming from cousin or parent plants and then developed into making their own varieties. The name Syrah includes all these different plants that fit in its description. Same can be said of Pinot and many other varieties. Serine is neither a clone since it's not a single individual but a family of plants. So, Serine isn't Syrah either, but fits in the big family of Syrah." - Martin Texier, Eric's son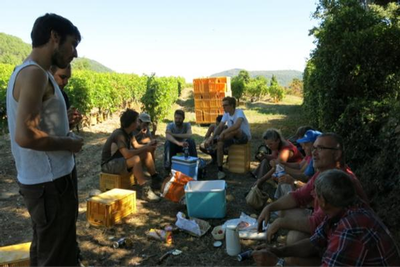 Texier's vineyard in Brézème held less than 2 acres of old vine Serine that was planted in the 1930s, before the availability of homogenous clonal material. These loose clustered, low yielding vines are sought out by Stephane Ogier, Yves Gangloff, Jean-Michel Stephan, and other top producers in the northern Rhône because of the intensely aromatic wines they produce. Texier's work in the vineyard is some of the most progressive in all of France. Inspired by the no-till, polycultural approaches of Masanobu Fukuoka, Bill Mollison, and Didier Barroulliet (the retired former owner of Clos Roche Blanche, one of the finest organic domaines in the Loire), Eric has been certified organic from the beginning and has incorporated biodynamic techniques (he was once certified, though no longer) for the last 20 years. In true Texier style, he does not hold back when discussing his vineyard bugaboos.
"I do my best to never have to use the three things that I find the most intrusive in organic and biodynamic agriculture:
-Plowing (in between rows or at the root)
-Copper (Mildew, Black Rot)
-Sulfur (oidium)"
Texier tries to intervene as little as possible in the vineyard (and cellar, but we'll get to that in a minute). He limits tillage to preserve humus and fungal networks and refuses to introduce animal manure for fertilizer. "The idea is not to bring any more organic compounds from outside." "The less I touch, the better it is for the soil. This is what I believe." "It's not strictly that I don't plow. Let's say that I avoid plowing, and each time I have to plow for whatever reason, I know that I'm doing harm to the soil."
Texier's winemaking mirrors his hands-off viticulture. Inspired by the wines of Marcel Juge and Noel Verset in Cornas, and Marius Gentaz-Dervieux in Côte Rôtie, his reds are 100% whole cluster, and all of Texier's wines are fermented with native yeasts. When asked in an interview how he manages his native ferments, he simply replied that he "has a very good microscope." He uses a wooden clamp to keep the fermenting cap submerged, avoiding classical extraction techniques like punch downs or pump overs. His Brézème Vieille Vignes Serine had a short, unsulphured maceration of 5-7 days under the submerged cap, then was gently pressed to old foudres, where it rested for 3 years before bottling with no SO2. The aromatic lift of Serine is in full effect, with bright cherry and stone fruit, smoked meat, and subtle stemmy herbaceousness that reminds me of fresh peppermint. Texier's wines, like the man himself, are simultaneously thoughtful and confrontational. They make you sit up and pay attention.
"As growers, we have to go much further than organic growing (in fact pre-1950's agriculture) or biodynamy (which is not much better than organic growing, at least when considered in today's actual practice). We have to face the question that people like Masanobu Fukuoka, Bill Mollisson, Miguel Altieri, Marc Bonfils raised at the same time, during the 1970s, on all continents, which is, can we compose with nature instead of fighting against it?" - Eric Texier from "A taste of Petrol" (please, if you would like to learn more, look up this blog post. Texier succinctly critiques the fossil fuel and energy-intensive practices common within the natural wine movement, from diesel-hungry tillage to cold carbonic maceration. Worth a read.)
100% Syrah. Brézème captured Eric's imagination as this once notorious appellation, rivaling the status of Hermitage, had dwindled to one hectare under vine by 1961. Located on the east bank at the southernmost tip of the Northern Rhône with clay-limestone soils, the area has a unique microclimate resulting from the cooling influence of the Vercors Massif and an altitude of 300 metres. Eric's annual production is around 20,000 bottles in total.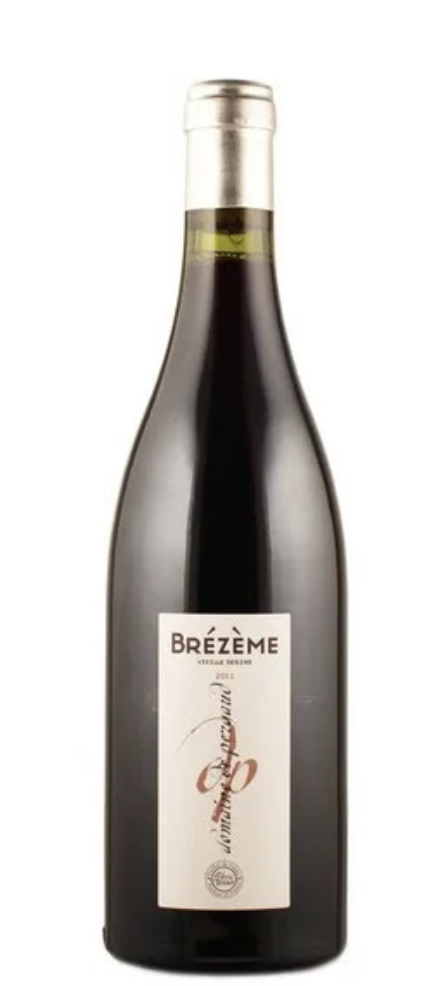 100% Syrah. From a tiny parcel of 60-70-year-old non-clonal Syrah, located in Brézème on a steep south-facing slope comprised of limestone soils, the grapes are hand-harvested and then whole-cluster fermented in concrete tanks with a one-week maceration without pigeage, before aging for 30 months in old demi-muids and bottled sans-soufre.