May 19, 2020 | Emily Riley
Let's Talk About Vacqueyras ~ Valley of the Rocks
Shop the Vacqueryas Unicorn Duo HERE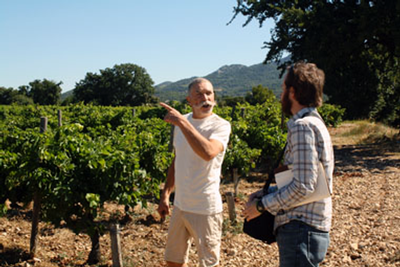 Vacqueyras is situated within the land of heady, alcohol-driven Grenache-based blends – the Southern Rhone - penetrated by intense minerality and fleshy dark fruits offered by the signature stony terroir and the limestone of the Plateau de la Garrigues. Chateauneuf-du-Pape, Gigondas and Vacqueyras are all to be found here – and each express a fierce independence based on their unique and tiny appellations.
Vacqueyras is the baby Cru of the Rhone, the AOC having been established in 1990, after a series of AOC statuses, including Cotes du Rhône(1937) and Cotes du Rhone Villages(1955), as well as its own named Village in 1967. Located to the Northeast of Chateauneuf-du-Pape and just Southwest of Gigondas, Vacqueyras has its own distinct character, producing softer, fleshier wines than neighboring Gigondas. The Grenache here tends to ripen up to two weeks earlier here than in Gigondas and the land is a bit lower and flatter. The wines produced here tend towards a subtlety not found in the higher altitude, more robust Gigondas, and can take on charming, elevated notes of lush stone fruit. The Mediterranean climate here is governed by the famous Mistral winds which aid in keeping the vineyards clear from parasites and fungal disease.
Production in Vacqueyras is governed by strict rules and regulations. Growers are held to a basic yield standard of 36 hectolitres/hectare of vines, thus making Vacqueyras one of the lowest yielding regions in all of France. Additionally, all grapes must be hand sorted and the vines cultivated must be at least three years old prior to their first vintage.
(The town takes its name from the Latin Valléa Quadreria, which means valley of rocks).
Finding Vacqueyras and Sang des Cailloux
A true gem of Vacqueyras, let alone the entire Rhone Valley, Serge Férigoule's cult-status winery, Sang des Cailloux, produces some of the most poetic wines in the region. This is the wine that I think of as benchmark Vacqueyras. Serge purchased the land of Sang des Cailloux in 1990 after working for the previous owner for 10 years. From that moment on, Serge's devotion to organic and biodynamic practices altered the vineyards life significantly.
I first discovered Serge's wines while working in the Portland restaurant scene (in Italian restaurants no less). Arriving nearly 10 years ago to work in the Walla Walla restaurant scene, I found camaraderie and a fierce affinity for Sang des Cailloux wines within the growing winemaker community at the time: this was the wine that young, up-and-coming winemakers came to drink at our bar after late hours in the cellar. And why wouldn't they be? Serge's wines are passionate, inky and mineral examples of a Vacqueyras that many have yet to discover and many in Walla Walla aim to emulate. Delve in!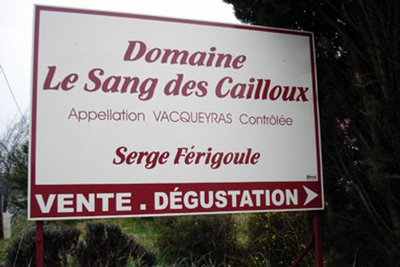 Sang des Cailloux - The Blood of the Pebbles
Serge's wines are organic, never see stainless steel or fining and filtration. Each of the three reds that he produces are given the Provencal name of one of his daughters (Serge will tell you himself that he is decidedly a Provencal himself, after all – from Avignon)!
The Sang des Cailloux winery is located on the Plateau des Garrigues, a famous limestone mass fabulous for vines, facing the Dentelles de Montmirail between Vacqueyras and Sarrians. Stirred by the Mistral winds, the 17 hectares of the estate are all AOC Vacqueyras.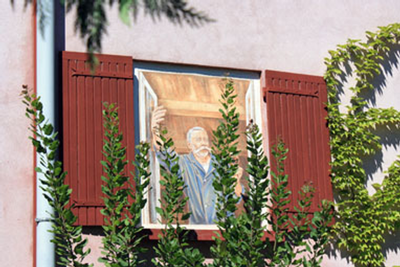 The Wines
Domaine le Sang des Cailloux Vacqueyras Cuvee de Lopy 2016
80% Grenache, 20% Syrah
Chewable dense purple/blackberry in color. Fierce iron minerality, green olive, garrigue, horse sweat, rich red kirsch and pink peppercorn rising fiercely upwards on the nose along with black fruit. So intriguing! Some stewed black fruit on palate along with black cherry, viscous gumminess on palate. Chewy black licorice, heavily herbal (garrigue), stewed blueberry and blackberry, and tons of graphite. Fatty.
Drink now – 2025
Vacqueyras Rouge Cuvée Lopy:
Lopy is the name of the farm where Serge Férigoule was born
Vine age 55 – 65 years
4 hectares planted on clay, limestone and scattered galets roulés
All grapes are harvested by hand
Grapes are de-stemmed
Natural fermentation (only using indigenous yeasts) in cement cuves with daily pump-overs
Parcels are aged separately in 450-L barrels
Wine is unfined and unfiltered
Domaine le Sang des Cailloux Vacqueyras Un Sang Blanc 2016
20% Clairette, 20% Grenache Blanc, 15% Bourboulenc, 15% Roussanne, 15% Marsanne, 15% Viognier
Super expressive Un Sang Blanc is a pretty rare wine. A blend of 6 grape varietals, this is a wine to be enjoyed young and with rich, opulent dishes. Lovely yellow color. Pop biscuits, butter, diesel, elderflower, yellow flowers and chamomile on the nose. A plump, rich and regal white with excellent tension. Sourced from a 10-year old 1 hectare vineyard.
Drink now.
Vacqueyreas Blanc Un Sang Blanc:
Vine age 10 years
1 hectare planted on clay, limestone and scattered galets roulés
All grapes harvested by hand
Wine is vinified in 450-L barrels
Lees are stirred and the wines completes malolactic fermentation
Aged for 12 months in 1 – 3 year old barrels
Wine is unfined and unfiltered
Shop the Vacqueryas Unicorn Duo HERE