April 13, 2020 | Allan Crum
Limestone
Talking dirty about limestone…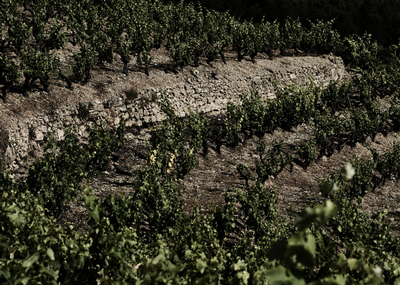 Vineyard planted on limestone, Celler de Capcanes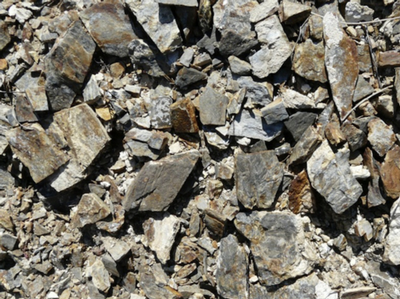 Limestone, Celler de Capcanes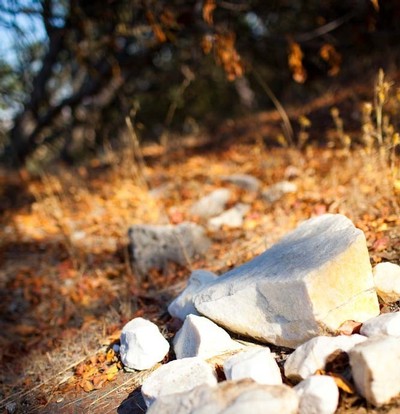 Limestone, Calera Winery
Winemakers can be a dirty lot. Sticky hands, purple feet, muddy vineyard trucks, the whole romantic shebang. A winemaker once told me a story of falling fully clothed into a one-ton fermenter, hosing himself off, driving home to change clothes, then coming back to the winery to finish punchdowns. Winemakers also love to talk dirt. To make wine is to be an amateur geologist, to know your water holding capacity, your soil temperature, your proportion of silt to sand or clay. The residents of the Mosel are very proud of their slate, 1 and the folks in Sonoma love Goldridge loam, but there's one kind of dirt that fascinates the winemaking world above all others: limestone.
Limestone is made of dead dinosaurs. Ok, not really dinosaurs, 2 but that got your attention better than, "limestone is made of ancient dead pond scum," even if that's much closer to the truth. Limestone forms when tiny little creatures (corals, mollusks, etc) living in warm, shallow seas precipitate calcium out of seawater. Often, they use this calcium to build themselves a home (also known as a shell). When this calcium becomes a rock, it is called limestone. 3 The clay-rich limestone marls of Chablis and Sancerre, the Kimmeridgian soils, have visible prehistoric oyster shells in them. Limestone is also found in the Aube, in Piedmont, Alsace, Montsant, Saint-Emilion, and sections of California's Central Coast. 4 There are many technical ways that limestone affects a vineyard, 5 several of which are still debated today, 1000 years after monks began classifying Burgundy's many limestone-rich crus.
While the superiority of limestone terroir is far from a settled subject, it is indisputable that winemakers continue to seek it out. The draw of limestone has led successive generations of Californian winemakers to strike out for previously unexplored regions. In the late 1970's, after several internships in Burgundy, 6 Josh Jensen spent years searching California for limestone soils. He found his slice of golden pond scum on Mt. Harlan, 7 where he would plant his estate vineyards and establish Calera winery. A decade later, the Perrin family of Chateau Beaucastel in Châteauneuf du Pape partnered with the Haas family to found Tablas Creek on a chalky series of hills in Paso Robles. 8 A decade after that, the Stolpmans would establish Stolpman Vineyard on a different piece of calcareous rangeland, this time in Ballard Canyon.
New World winemakers chase limestone because so many of the great vineyards in Europe are planted on limestone soils. What would the wines of the Cote d'Or be without limestone? 9 The cooperative Celler de Capcanes in Montsant has tried to quantify the differences between soil types by vinifying Grenache grown on four very different soils (slate, sand, clay, and limestone) in exactly the same way, then bottling each example separately in their Terroir Workshop line. They claim that their limestone bottling is fresher and more floral than their other wines. 10 Grab a bottle with our new Spanish bundle and see if you can taste the difference.
---
[1] Be it red or blue.
[2] Though the Jurassic period was named after the limestones of the Jura, where it was first identified.
[3] I am also a rank amateur geologist, so if this is offensively simplified, I apologize.
[4] There is even a deep calcareous layer in Walla Walla silt loam.
[5] Calcium availability, water retention, and grape ph, just to name three.
[6] Romanee-Conti and Dujac. Not a bad resume for pinot noir.
[7] Right next door to the appropriately named Lime Kiln Valley AVA, home of old vine Mourvedre from 1922.
[8] Calera and Tablas Creek have something else in common - they both have clones or vineyard selections named after them. Tablas Creek, unhappy with the available budwood at the time, imported selections of all 13 Chateauneuf varieties. The Calera "clone" of Pinot Noir was either smuggled into the country from the vineyards of DRC or selected by Jensen from heritage cuttings at Chalone.
[9] Or clay, for that matter.
[10] Which mirrors the results of a Decanter tasting of Languedoc wines grown on limestone vs schist.