April 6, 2020 | Allan Crum
Mencía
On zombie vines, wine wizards, and fresh ground pepper…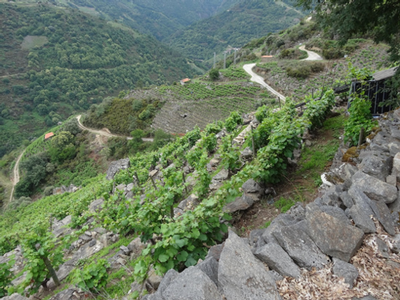 Mencía in Ribeira Sacra, from Jose Pastor Selections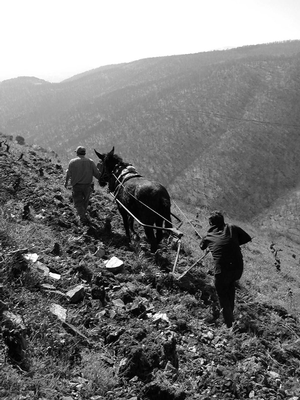 Descendientes de J. Palacios, from Rare Wine Co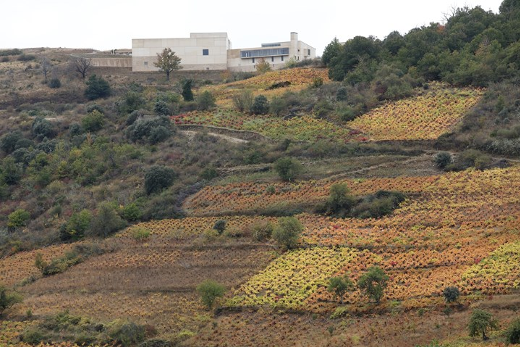 Descendientes de J. Palacios, from Rare Wine Co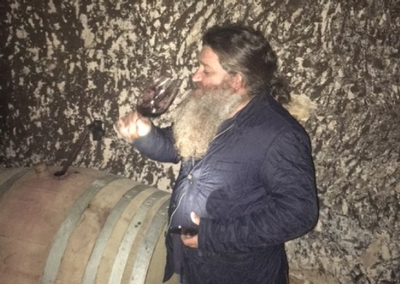 Raul Perez, from Skurnik
Mencía's story will sound familiar to anyone who has navigated the wine industry's constant, churning search for "The Next Big Thing!!!" 1 Old vines in a forgotten region: formerly overcropped, but returned to balance through the reticence of many decades, rediscovered and transformed by (often young) trained vintners searching for value outside of more established 2 regions. In the last 20 or so years, Mencía has been brought back to life by these wine wizards, some of whom3 famously sport preposterously mage-like facial hair. What is old is always new again, and what is considered unknown is still very familiar.
Mencía grows throughout northern Portugal4 and northwestern Spain. This region (the part of it that is in Spain at least) is sometimes known as Green Spain. It's not the brutal (though still beautiful) Martian landscape of Priorat, nor the continental plains of Rioja. It is oceanic and verdant (In a word - wet). Red grapes grown in cool, wet climates at the margins of their ability to ripen, like Cabernet Franc from the Loire and Syrah from the far Northern Rhone, often exhibit more savory spice than those grown in more comfortable conditions. Fans of these reds will find their first glass of Bierzo or Ribeira Sacra5 hauntingly familiar, because Mencía has more spice than Paul Atreides.6 In fact, the aroma and taste of Mencía is often compared to a hypothetical cross between Cabernet Franc and Syrah, with a bit of Pinot Noir thrown in for good measure. It combines the fresh ground black pepper of cool climate Syrah with the autumnal cassia and herby bark spice of ripe Loire Franc. There are flowers too, and summer raspberries, but it's that spice that lights me up every time.
Mencía first came to the greater wine world's attention in the late 1990's, when Priorat savant Alvaro Palacios and his nephew Ricardo established Descendientes de J. Palacio in western Bierzo. Alvaro had already helped to resurrect another Spanish region, Priorat, in the previous decade, and he saw many of the same building blocks in Bierzo. Their Petalos bottling, 95% Mencía, remains one of our favorite budget friendly reds from anywhere in the world, and their smaller production wines such as Corullon showcase Mencía's impressive ability to age.7
If the Palacios family brought the world's spotlight to the wines of Green Spain, then Raul Perez brought the mystery. Did he really age his Albariño at the bottom of the ocean? Did he really macerate his reds for months on end in his cave bear cellars?8 And, most importantly, what was he hiding in his Gandalf meets Dumbledore by way of Rasputin beard!?!9 If his Mencía is any indication, my guess is a pepper mill.
---
[1] See also - Etna, Tenerife, Mendocino County, Contra Costa, Chilean Pais, Muscadet, Mondeuse from the Savoie, Priorat, Beaujolais, the Rousillon, Sierra de Gredos Garnacha, etcx1000
[2] expensive
[3] Well, one in particular, but more on him later.
[4] Where it is known as Jaen
[5] There are also excellent versions being made in the new world, particularly in the Columbia Gorge by shop favorite Analemma.
[6] I'll save my sandworm jokes for the next time we feature Chateau Rayas.
[7] I've had 10 year old examples that still needed hours in the decanter to fully open.
[8] With no sulphur additions to boot
[9] His nickname in Spain is "mago de los vinos", or wine magician