April 15, 2020 | Allan Crum
Pink Bubbles
Pink Bubbles – Always a Party
Everyone loves pink bubbles. Full stop. It could be the illustrious Rosé Champagne Billecart-Salmon, or it might be sparkling rosé from an aluminum can - you know everyone's having a good time when the pink bubbles come out. We could all use a little sparkle right now, so here are three of our favorite sparkling rosés from Italy and France.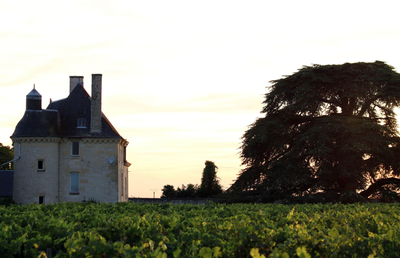 A view of Plouzeau's estate
The Marc Plouzeau Perles Fines is one of our most popular wines in the shop. We always have one cold, at least when we can keep it in stock. This Cabernet Franc from the Loire simply does everything right. It's crisp and clean without being angular, smelling like a cherry orchard and tasting of tangerine slices on a grassy picnic. The Plouzeau's farm their 75 acres organically, including the replanted vineyards of Chateau Bonnelerie, and their attention to detail shows in this bottle.
Chateau Bonnelerie Marc Plouzeau Perles Fines Sparkling Brut Rosé
● Touraine, France
● Organic Vineyard with biodynamic principles
● "The bouquet shows lovely Cabernet Franc character in its mix of white cherries, a touch of tangerine, currant leaf, lovely soil tones and a bit of smokiness in the upper register."
● Translates to "tiny pearls"
● Chateau Bonnelerie replanted its vineyards in 1976
● 100% Cabernet Franc
● 30 ha
● Traditional method sparkler
---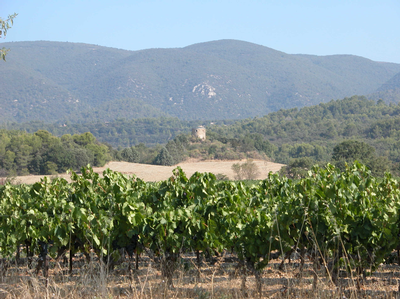 A view from Vielle Ferme
Further south, the Perrins of Chateau de Beaucastel also know a thing or two about growing tasty grapes. They source the grapes for La Vielle Ferme ("the old farm") from limestone soils in Ventoux and Luberon. Both of these appellations on the border of the southern Rhone and Provence are known for their high quality/price ratio. Grenache, Cinsault, and Pinot Noir are direct pressed (rather than bled off via the saignee method) to stainless steel, producing an airy, citrusy sparkler that won't weigh you down.
La Vielle Ferme Sparkling Rosé
● VdF, France
● Perrin family, 1970 started importing
● Grenache, Cinsault, some Pinot, direct press
● Limestone
● Stainless steel
● A nose of fresh red fruit (raspberry, wild strawberry) gives way to a palate of citrus(pomelo) and white flowers. [A field with a mountain in the background Description automatically generated]
---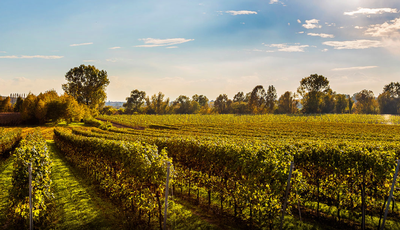 A view from Tenuta Maccan
Rounding out the parade of pink is the Le Monde Pinot Nero. First of all, Pinot Nero is a way cooler name than Pinot Noir (even if the Nero emperor sucked). This Friulian wine continues the theme by punching way above its weight. It is harvested early to preserve freshness, fermented dry, then refermented in tank using the Charmat method. It stays on the lees for 60 days, picking up a little extra breadth via autolysis, before it is bottled at spumante pressure with less sugar than most brut Champagne. It has round raspberry fruit and a soft, ticklish texture that demands sunshine and a yard.
Le Monde Pinot Nero Rosé Sparkling, Tenuta Maccan
● Friuli Grave, Italy
● 100% Pinot Nero
● Estate owned by Tenuta Maccan
● Charmat method, 60 days on lees
● Vine age 39 years
● 8 gram residual sugar/liter
● Gravel, clay, and calcareous soils
● Founded in 1970