April 17, 2020 | Allan Crum
Riesling Rocks!
"Sometimes I think that every mouthful of wine that is not Riesling is wasted." - Joseph Jamek, to his importer.
My favorite piece of wine-based media is an old grainy video from the mid 90s.1 In it, Jancis Robinson MW sits at a restaurant, drinking a bottle of Riesling. She says that, for her, Riesling produces the greatest white wines in the world. The camera pans out, and you see that she is drinking a bottle of JJ Prum Wehlener Sonnenhur Auslese from 1949. It pans out again, and a helicopter shot reveals that Jancis is drinking her nearly 50 year old bottle of wine on the top of a castle overlooking the Mosel river. A dramatic guitar solo plays, I swoon, and the Mosel flows on.
My favorite quote about Riesling also comes from Jancis. She says, in a wonderfully snide attempt to explain this noble grape's doldrums, that, "The problem with Riesling is that, unlike Chardonnay and Pinot Grigio, it has a very powerful flavor." Great Riesling has heft and lift in equal measure, a lithe Fantasia hippopotamus dancing ballet on your tongue. Between Paul Grieco's Summer of Riesling and Jancis Robinson's tireless evangelism, you probably don't need another wine geek haranguing you to drink more Riesling. Instead, let's take a tour of some of Riesling's haunts. It's nice to get out of the house.
---
[1]Jancis Robinson's Wine Course (1995) Episode 6: Riesling https://www.youtube.com/watch?v=dtj9haNM9XY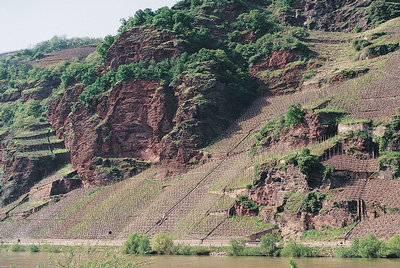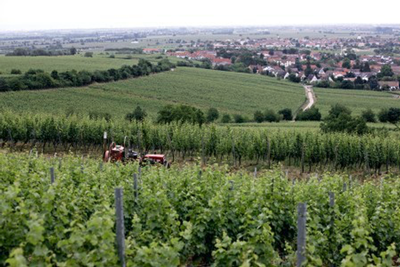 German Vineyards "Burgundian" Riesling at Von Winning
Germany
Germany is Riesling's home, and it produces many of the variety's best wines. German Rieslings have been classified using the pradikat system since the 1970's, which organizes wines based on the ripeness of the grapes during harvest.2 Germany, especially the Mosel, is at the northern edge of Riesling's ability to ripen fully, so it is no surprise that its finest vineyards are steep, southern facing slopes that bask in the sun. Before the advent of temperature control and selected yeasts, fermentations would continue until they stopped naturally, leaving a modicum of sweetness balanced by the region's brilliant acidity. These halbtrocken (or feinherb) wines were the style that popularized German wines throughout the world in the 18th and 19th century, though they have been supplanted in recent history by the late-harvest wines of the pradikat system, and more recently by the powerful, dry Grosse Gewachs.3
Riesling is an incredible conveyor of terroir, so its flavors and aromas vary greatly depending on the vineyard or region it is grown in. Earlier harvested Kabinett or Feinherb wines are often floral, with swaths of honeysuckle and lemon curd. Riper regions like the Pfalz provide more tropical fruits like pineapple, and the botrytized late harvest wines often smell of candied ginger or saffron.
---
[2] Kabinett, Spatlese, Auslese, Beerenauslese, Trockenbeerenauslese, in ascending order of ripeness
[3] "Great growths"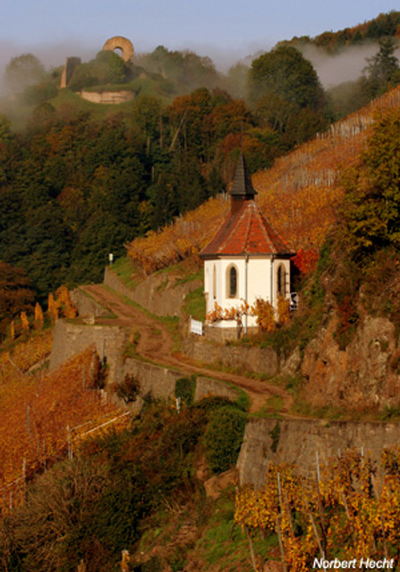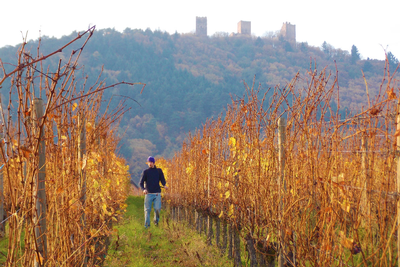 Alsatian Vineyards Samuel Tottoli in the Kuentz-Bas vineyards
Alsace
Just across the French border lies Alsace. While it currently resides within France, Alsace has changed hands several times in the last century or so, swapping back and forth between the Germans and French. As such, Alsace grows Germanic varieties like Riesling and Gewurztraminer, while also growing classically French varieties like Pinot Blanc. The incredibly diverse vineyards of Alsace4 have been organized into a series of crus much like Burgundy, though the Grand Cru wines must be made from either Riesling, Gewurztraminer, Pinot Gris, or Muscat.5
Alsace is warmer than most of Germany, and their Rieslings are sunny. They carry phenolic heft and dry extract that pairs well with the rich, often pork-based dishes of the region. Alsatian Riesling will have notes of ripe, golden citrus paired with a deep, mouthwatering minerality and a spicy finish.
---
[4] It has been said that Alsace has as much geologic diversity as the rest of France combined.
[5] With one exception: Sylvaner may be labeled Grand Cru if it comes from the Zotzenberg vineyard.

Clare Valley Vineyards
Clare Valley
Until recently, Australia was the second largest producer of Riesling in the world after Germany. The grape has been down under since the mid 1800s, and it quickly found a welcoming home in the Clare Valley of South Australia. The Clare Valley is north of the warm Barossa Valley of Shiraz fame, and it has a more temperate climate. Cold nights allow Riesling to maintain its signature acidity during long hang times, and marginal slate soils (much like the Mosel) elicit stone rampart structure in wines built for the long haul.
Clare Valley Rieslings are as breezy and refreshing as a fresh squeezed lime. They often exhibit aromas of granny smith apple and fresh cut flowers6 with a citrus zest finish. These wines also have a fantastic reputation for aging, packing some honeyed density onto their stony frame as the years flash by.
---
[6] And fresh tennis balls, if Ian Cauble MS of SOMM fame is to be believed.
And Beyond
These are just a few of the wine regions that produce fantastic Riesling. Washington has a long history with the grape, and there are more than 6,000 acres planted here today. Riesling's cold hardiness (and general deliciousness) has made it the grape of choice for emerging and marginal regions, whether in Michigan, Vermont, or Poland. For myself, I know that as the days get longer and the sun hangs around, I'm going to be reaching for a bottle of Riesling. The saying goes that we talk dry but drink sweet. I think that now especially is the time to talk sweetly...and drink it dry.