April 4, 2020 | Allan Crum & Emily Riley
Ducleaux Cellars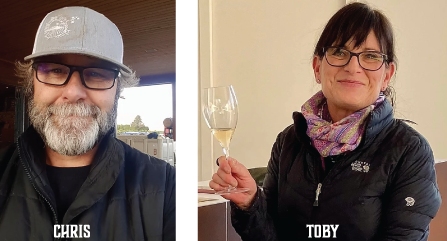 What do you keep in your garage? Probably a car, or a lawnmower, maybe some tools. How about a small winery? Toby Turlay and Chris Dukelow produce their small lot wines in their garage turned winery, continuing a garagiste tradition that has its roots in Bordeaux. They craft white, rosé, and red wines in their Rocks district garage, but it was their pet-nat that really caught our attention. What's more fun than impeccably made wine from a garage? Impeccably made sparkling wine from a garage!
Pet-nat, or petillant naturel, a sparkling winemaking style that has taken the world by storm recently, has deep old-world roots (much like making wine in a garage). It goes something like this:
Rather than going through the complicated, multi-year rigamarole of traditional methode champenoise, a winemaker making pet-nat simply waits until their fermenting grape juice is at the correct sugar level, then sticks it in a bottle, often under a bottle cap rather than cork. The yeasts in the wine will continue to eat sugar and produce CO2, which will be trapped in the bottle, causing carbonation. Hurray, bubbles! We are very excited that more local winemakers are experimenting with this technique, producing joyous wines that seem to disappear faster than physics should allow. We could all use more bubbles in our lives, especially if they're artisan garage bubbles from a small, exciting new producer like Ducleaux Cellars.
An interview with Toby Turlay and Chris Dukelow:
Ducleaux Cellars is named after one of you. Can you tell us that story?
The name originated from Chris's last name, Dukelow. The Dukelows originated in France and the spelling was probably Ducleaux or Duclos. They were Huguenots (Protestants), were persecuted by Catholics, and they fled to Ireland in the 1600's. The potato blight brought them to the US in the mid 1800's. The Huguenot Cross has concentric Fleur de Lis and is part of our label.
How did the two of you decide to make wine? Why Walla Walla?
There are two different story versions. (1) Chris grew up in Richland and moved to Seattle for his professional career. Returning to visit his parents periodically, they would go wine tasting and Chris became enamored with the winemaking craft and "perceived" lifestyle. Between jobs in 2011 we decided to make wine in our garage as a hobby. This hobby spiraled into bonding our garage and doing our first commercial vintage in 2013. Since then, Chris attended the Northwest Wine Academy and Toby the Walla Walla Enology and Viticulture program. We wanted to move to Eastern Washington wine country to escape the craziness of Seattle and loved the soul and vibe of Walla Walla. We found this amazing house and property in the eastern most corner of the Rocks District with an unobstructed view of the Blue Mountains. It was love at first sight.
(2) We have a combined family with 6 kids and there was a 9 month period where all of them were teenagers at the same time. Given the kid's milk consumption and our wine consumption, we were faced with the dilemma of either buying a cow or starting a winery. A winery seemed like a better long term solution.
Has Ducleaux Cellars opened to the public yet?
No, our plan was to open at the beginning of April, but obviously that has been put on hold. We will open as soon as it's safe and the all clear signal sent.
When did you start? How many cases do you produce? Do you have a specialty or focus, either varietally or stylistically?
We started commercially with the 2013 vintage and stayed very small (<400 cases annually) until the 2018 vintage when we became more serious about growing the winery. We produced a little over 1000 cases in 2018 and 2019. We expect to make approximately 1,500 to 2,000 cases annually from our new estate Rocks District vineyard. Stylistically, we are predisposed to Rhone inspired blends with little to no new oak. Toby loves sparkling and will always do something with bubbles annually.
Does Ducleaux Cellars have any vineyards of their own? If so, what approach are you taking in the vineyard?
We currently have 8 acres of new vineyards planted in the Rocks District which will start to produce in 2021. We planted Syrah, Grenache, Mourvedre, Cinsault, Viognier, Marsanne, Roussanne and Grenache Blanc. The vineyard is managed by Chris Banek, one of the top viticulturists in the Northwest. We are trying to farm sustainably and Salmon Safe.
We love the Ducleaux Call Sign Pet Nat, and we've been really excited by the growing number of Washington producers that are producing them. Take me through the production of your pet nat. How do you make your picking decisions? At what point during fermentation do you bottle it? Is it disgorged?
We love the Pet Nat craze! Toby wanted to make a true Methode Ancestrale wine and keep it very natural. Although it looks like a white grape, it's 100% Grenache that was picked early to keep sugars low and acid high. At harvest, brix was 19.5 and PH of 3.23 and she felt the phenolics had developed sufficiently to pick. There is a rule of thumb that for every 4 grams/liter of remaining glucose/fructose you get 1 bar of pressure (Champagne usually has about 6 bars) from further fermentation. We wanted Call Sign to be around 4-5 bar so we bottled at 16 grams/liter and kept it in a warm room to finish fermentation. We don't disgorge, so you'll get the murky lees at the bottom. Chill upright to let the lees settle. When pouring, it will get more cloudy. This is natural. The name "Call Sign" was chosen to honor Toby's father, a career Naval Aviator, whose call sign was "Champagne One".
What is your vision for Ducleaux Cellars in the next 5 years?
We want to be the fun, non-pretentious winery that you always want to visit when you are in Walla Walla. Serious wines by not so serious people. We have great Rocks District wines at a fair price and it's the place to bring your friends and family to share a glass, hang by the firepit, play shuffleboard and have a picnic with a great view.
If you could pour your wines for anyone in history, who would it be and why?
Toby: I don't have a specific person in mind, but it would definitely be someone in France before the phylloxera outbreak. If I could go back in time, I'd travel around France, work the land, go through harvest and see their winemaking process. I'm sure I'd have to work on not freaking out about their sanitation practices. It would be interesting to see their reaction to our style of wines today. If I had to choose one person, it might be Marie Antoinette. I'd love to hear what she was thinking and why she made the choices she did.
Chris: It would be amazing to sit down and pour wine with Thomas Jefferson and John Adams and talk about the current state of affairs. While imperfect in many ways, both of them practiced civility and unselfishness in helping to craft this amazing democratic experiment while having wildly different views. In spite of their differences, they became very close friends corresponding until their deaths on the same day, July 4, 1826 (50 year anniversary of signing the Declaration of Independence). What a novel idea that you can be friends, be civil, while disagreeing on many things.
If you could make wine anywhere in the world other than Walla Walla, where would it be and why?
Southern Rhone areas of Chateauneauf du Pape and Gigondas and the Champagne region. The beautiful old small villages and vineyards, amazing food and wine along with a simpler life. We've been once and we loved it. We've found some of Toby's ancestors are from the Loire Valley, Bordeaux and Champagne regions.
What other wineries or wine professionals have you drawn inspiration from? What businesses and people outside of the wine industry have inspired you?
We both have a background in sales and marketing and an entrepreneurial spirit. Chris' expertise is business development, launching new tech companies and the financial side while Toby has more expertise in identifying new trends and customer experiences. We were drawn to family wineries with interesting stories, such as Dusted Valley, Cairdeas, Guardian Cellars and Kiona.
What would you like consumers to know about your business during this crisis?
We're a small business that was just about to launch when this hit. It's unfortunate, but we'll be ready when the virus subsides. We've got a ton of projects to complete in order to open, so in some ways, the crisis is helping us focus. We are happy to offer curbside pick-up and local delivery.
Are you offering delivery? Pickup? Have you changed your shipping policies?
We are offering both delivery and pickup along with a 20% discount. We also are offering free shipping for our customers beyond the local area.
How have you been occupying your time during "shelter in place"?
Working on finishing our guest houses, long walks on country roads, blending trials for our 2018 reds and 2019 whites, binging on The Newsroom, The Expanse and the trainwreck called Tiger King :-). We have a running scoreboard for our Sequence game.
In what ways has your life been affected outside of your work?
The realization of how Tom Hanks made a real friend with a volleyball called Wilson in Castaway. We really miss our kids, our family and our friends. Everyone is coping in their own way. Some days are more of a struggle than others. We are trying to see the silver lining and embrace this time, and still allow room for processing and, in some ways, grieving. Toby has no one to feed but Chris, and this is a real problem.
Have you had to delay any rollouts or changes to your business because of Covid-19?
Launching the entire winery and tasting room.
No one really seems sure how long the pandemic will last, with estimates ranging from weeks to months. How long can your business survive the current climate?
We have cases of wine, ample toilet paper (we didn't hoard!) and some savings to hold us over until we can start to grow the business. This situation was obviously not part of the plan, but we are trying to find ways to keep costs down but still try to support other local small businesses so they survive as well. We are all in this together.