May 9, 2020 | Allan Crum
Northern Rhône
Roasted Slopes, Burnt Earth, and BBQ
Shop the Battle Rhône: North vs. South 4-Pack -- bottles detailed below
Syrah has rapidly established itself as a signature varietal in Walla Walla, recently supplanting Merlot as the second most planted variety in the AVA. The best Walla Walla Syrahs exhibit a feral, savory edge that reminds me of wines from Syrah's birthplace in the Northern Rhone valley. While many people are familiar with Rhône blends, the classic Grenache-Syrah-Mourvédre-etc. combination is styled after traditional Southern Rhône blends from Mediterranean appellations like Gigondas or Châteauneuf-du-Pape. The Southern Rhône produces 95% of all Rhône wine, so finding good examples of northern Rhône wines can be challenging. Luckily, the shop is always stocked to the gills with archetypal examples of Côte Rôtie, Hermitage, and Cornas, as well as everyday drinkers from Crozes-Hermitage, Saint Joseph, and the broad Collines Rhodaniennes designation.
Northern Rhône Syrah is my desert island, death row final meal, death bed wine. I've been reading the 700 page "The Wines of the Northern Rhône" by John Livingstone-Learmouth for fun. So, indulge me if you will, while I rant about French fruit into the consensual hallucination we call the interwebs.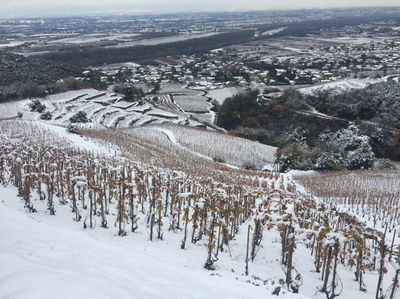 Jean Luc Colombo, Cornas
Weather
As I mentioned above, when we picture the Rhône, we generally think of the south of France. Warm Mediterranean winds, maybe an olive tree or two, scrubby garrigue wafting scents of thyme and rosemary as vigneron pick bunches of Grenache off of gobelet-trained bush vines: the kind of place a medieval Pope would go on vacation.
The Northern Rhône is a different animal (probably a furry one). It is continental, with cold winters and warm, but not hot, summers. "But wait," the few francophones among you say, "doesn't Côte Rôtie translate to "roasted slopes"?" "Yeah," the even fewer celtophones among you say, thrilled that their college minor is finally paying off (take that, Dad!), "Cornas means "burnt earth" in old Celtic!" That's true, but it's an example of the difference between a warm climate vs a warm spot in an otherwise cool climate. Failla winemaker Ehren Jordan worked several years for Jean-Luc Columbo in Cornas, and he recalled arriving on a warm (by no means hot) 80-degree summer day to find the locals complaining about a heatwave. Côte Rôtie is closer to the Beaujolais than Avignon, and it represents the northernmost plantings of Syrah in France.
The relatively cool weather draws out a unique expression of Syrah. The delicate violet and spicy aromas that typify cool-climate Syrah burn off in high heat,1 giving way to black plum, chocolate, and coffee. You see this difference within the Northern Rhône itself. Côte Rôtie in the north is generally the lightest and most ethereal of the appellations, more red-fruited driven than the warmer vineyards of Hermitage and Cornas, which produce a rich, more robust wine with darker fruit.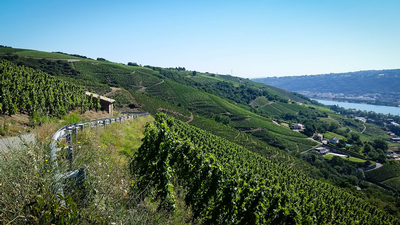 La Grande Colline, Cornas
Vineyards
Syrah is the only red grape allowed in wines of the Northern Rhône, though Viognier is allowed for co-fermenting in Côte Rôtie, and Marsanne and Roussanne serve the same role in Hermitage. The best vineyards are on very steep south-facing hills that allow greater heat accumulation and ripeness. The vines are traditionally trained up a stake in a style called "echalas", much like the Mosel or Mt. Etna. These stakes allow the Syrah shoots maximum sun exposure, while allowing vineyard workers useful climbing aids while they work in the vineyards. Planting is high density, from 3-4k plants per acre, and the work required is enormous. Mechanization of the steepest, grandest slopes is impossible, and one vigneron estimated that it took 400 man-hours per acre to care for the vines. Some of the wealthiest landowners hire helicopters to spray sulphur and other vineyard treatments. Yields are low (often less than 2 tons per acre), and given the backbreaking work required, it is no mystery why many vineyards were abandoned in the lean years between phylloxera and the gradually increasing prices of the 1980s and 90s.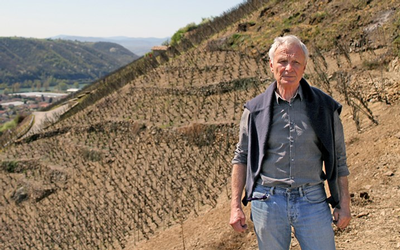 Rene Rostaing, Côte Rôtie
Winemaking - To Stem or Not To Stem
"One aspect here, admittedly less severe than at St. Joseph, is that of young growers coming on stream and turning out technobabble wines. The previous generation was involved with what to plant, following decrees, mastering white wine vinification, tidying up their cellar work. This current generation is feeding off a high price regime and lending their ears to advisers and image dabblers, the theory merchants who dispense advice without responsibility. Suddenly a father-to-son Domaine switches from the serenade to punk rock: a world of injected oxygen, lees stirring, high-temperature fermentation, max extract, and wines that fall apart after just 20 minutes of air." John Livingstone-Learmouth, on Crozes-Hermitage.
As with Barolo, the Northern Rhône has had a stylistic divide between traditionalists and modernists. Traditional vinifications were done whole cluster, with the fruit crushed by foot and fermented in concrete tanks, before aging in concrete, foudre, or old 600l demi-muid barrels. Modern techniques rely on destemming, extended macerations, new 225l oak barrels, and a range of enological products. More recently, a middle way has formed, utilizing both modern and traditional approaches. The traditional wines have gained purity from softer tannins and more rigorous barrel selection, and the modern wines show less new oak and dry extract.
The choice of whether to destem or not remains crucial. Classic producers like Clape in Cornas or Jamet in Côte Rôtie continue to utilize 100% (or nearly) whole cluster, while Lionel Faury in Saint Joseph is less prescriptive, incorporating various levels of whole cluster depending on the cuvee and vintage. Even Guigal, as modern a producer as they come, uses large amounts of whole cluster in ripe vintages. Whole cluster fermentation brings sappy, floral spice to a wine, emphasizing the lighter and more delicate elements of cool-climate Syrah. Some vintners like Thierry Allemand, Jean Michel Stephan, and Herve Souhaut utilize carbonic maceration, leaving their whole bunches uncrushed. This produces a silky mouthfeel and explosive fruitiness that, when combined with Syrah's more animalistic side, creates a very complete expression of the grape.
The Wines
I recently described wines from the Rocks District as "a bear in a blanket, waiting for Goldilocks". Syrahs from the Northern Rhône, their stylistic parents, are a bear in a meadow. Sure, they could tear your face off, but they'd rather eat blackberries and play with wildflowers. They can be feral and smoky, like wild boar bacon with freshly cracked black pepper and mixed olive tapenade. All of this ursine ferocity is wedded to pure violet and bramble, with huckleberry and blackberry running down your chin. The monumental structure of bristly whole cluster traditionalists holds up well to cellaring, as do densely extracted modernist wines, with good examples showing well after 10-15 years. Young wines, especially from more affordable appellations like Saint Joseph and Crozes-Hermitage, drink very well in the meantime, with snappy red or blue fruit amidst tufts of savor. I love these wines with anything from the grill. Lamb and beef are classic pairings, especially for the darker wines of Cornas or Hermitage. The lighter wines pair well with hearty pork, dark meat chicken, or game birds. Who could say no to some medium-rare grilled duck breasts and a glass of Côte Rôtie?
---
[1] Rotundone accumulation, the black pepper aroma, is directly related to temperature in the fruit zone.
---
Battle Rhône: North vs. South 4-Pack
North: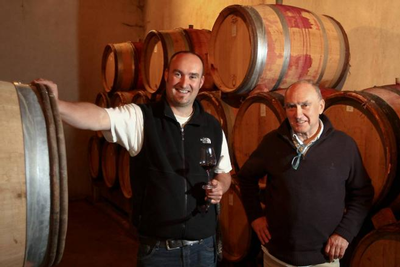 Maxime and Alain Graillot, Domaine Equis
Equis Equinoxe Crozes Hermitage
100% Syrah
Practicing organic
commune of Beaumont Monteux
Native yeast ferment in concrete tank and large wooden tronconique vats
80% destemmed
Aged in used DRC barrels for 9 months
3,300 cases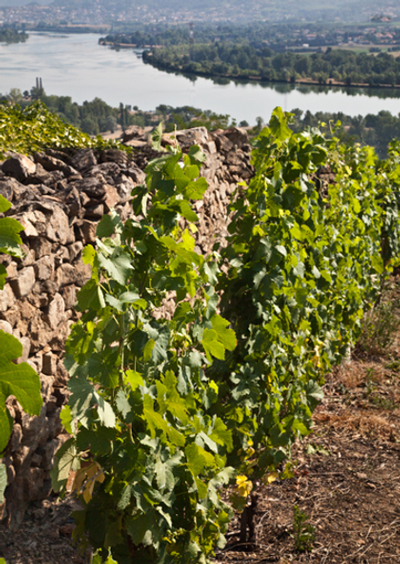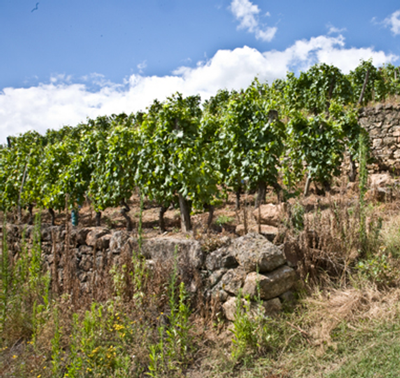 Domaine Faury
Faury Collines Rhodaniennes Syrah
Granite soil
Partially destemmed
10 day maceration
Aged 6 months in 600l demi-muids
South: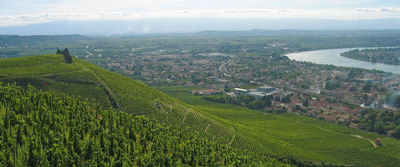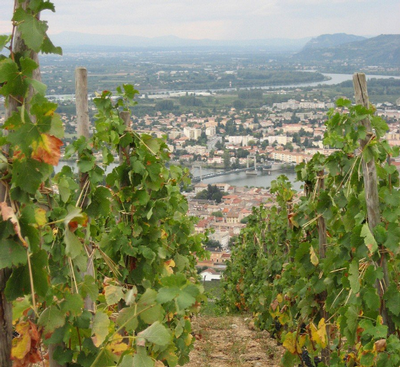 Delas Freres Vineyard in Hermitage
Delas Cotes du Rhône St. Esprit 2017
60% Syrah/40% Grenache, grown in the Ardeche
88 Points WS
41k cases
All destemmed, 15-day maceration, aged in stainless for 8 months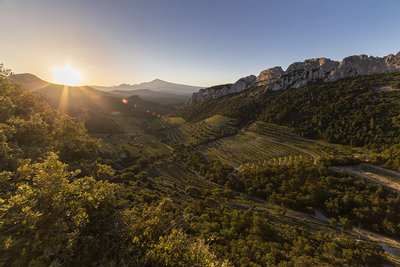 Gigondas
Domaine du Cayron Gigondas
Low yields 30hl/ha (less than 2 tons per acre)
40-70-year-old vines
78% Grenache, 14% Syrah, 6% Cinsault, 2% Mourvèdre
21-day maceration
Aged in foudre for 12 months
Unfined, unfiltered