April 6, 2020 | Allan Crum & Emily Riley
Prospice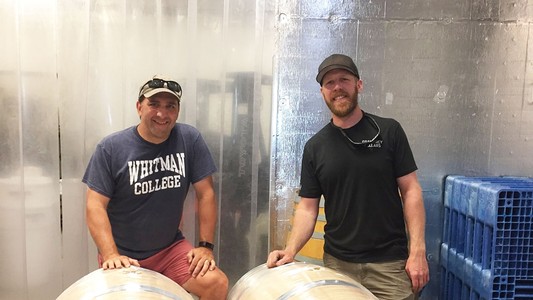 Who doesn't love a buddy story? Woody and Buzz, Butch and Sundance, Syrah and Viognier! Prospice is, at its heart, a buddy story. Its co-owners/winemakers, Jay Krutulis and Matt Reilly, studied together at the Walla Walla Community College Enology and Viticulture program before founding their winery. They opened to the public in 2019, and we were immediately impressed by the elegance and definition of their wines. Matt and Jay craft beautifully balanced wines that are stylistically timeless while remaining firmly rooted in place. I can attest, having poured wine for both of them on multiple occasions, that they're also super nice guys to boot.
Matt and Jay both worked as Cellarmasters for two of the best wineries in the valley (Gramercy Cellars and Tranche Estates, respectively) before striking out on their own. Their 2017 Les Collines Syrah puts this pedigree on full display. Partial whole cluster fermentation gives a wild, sappy edge to the classic blue plum of Les Collines Syrah. In fact, it was recently awarded 92 points and an Editor's Choice from Sean Sullivan at the Wine Enthusiast. "Even in these difficult times, the dream is still alive for small producers in Walla Walla. There are very few regions where you can bootstrap a winery and produce 92+ point wines right off the bat," says Sabrina Lueck, Instructor of Enology at the WWCC. We recently had a chance to taste their new Gamache Vineyard Viognier, and frankly, it was delicious. We expect big things in the future for Matt and Jay.
An Interview with Matt and Jay:
How did the two of you decide to make wine together? Tell us a brief history of the evolution of Prospice, in your own words.
We met in the WWCC Enology & Viticulture program, where we worked on a number of vineyard and winemaking projects together. One thing that was clear right away was that our palates were creepily similar — when tasting wines together, we will write the same tasting notes with alarming regularity. We also had similar visions for the wines we wanted to produce and the kind of winery we wanted to run, so it was a natural fit.
Compare and contrast your Les Collines Syrah with your Resurgent Syrah. They seem to be very different styles of wine, even though the vineyards themselves are fairly close.
Winemakers love Syrah for its expressiveness and diversity: It can exhibit fruit, spice, herb, and savory components in widely varying degrees of intensity, and it showcases terroir arguably better than any other variety. Our two Syrahs come from vineyards that are less than 8 miles apart, are the same Phelps clone vines, and are vinified very similarly, but they end up representing very different stylistic points on the Syrah spectrum. This difference is almost entirely attributable to the difference in the vineyard sites, and we love being able to pour these two wines together to illustrate the versatility of Syrah within our relatively small valley.
Les Collines is planted on rich, fertile loess soils hundreds of feet deep at the base of the Blue Mountains. Our Les Collines Syrah is all about texture, nuance, and complexity all in one. It combines dark fruit, beautiful herbaceous notes, and a mild salty, savory undertone -- each in an understated way, but which all combine to form a lively, expressive wine. It is, to us, a much more Old World-style expression of Syrah evocative of the northern Rhône valley.
Resurgent Vineyard sits on the valley bottom of the South Fork of the Walla Walla River and is planted in ancient riverbed soils, full of cobbles and basalt sloughed off the surrounding cliffs. The soil types are virtually identical to the famous Rocks District of Milton-Freewater, though Resurgent sits almost 700 feet higher in elevation, and thus sees much more influence from the mountains. Our Resurgent Syrah is much more brooding and savory, exhibiting a more smoky, meaty profile; however, we tend to find acidity and aromatic notes of citrus zest that tend to lift and brighten the overall profile just a bit, making the wine a bit more approachable than "Rocks" Syrahs can sometimes be. We attribute this brightness to the elevation and mountain influences on the vineyard.
With the current crisis, it is easy to forget that the valley recently experienced catastrophic flooding. I've heard that Resurgent Vineyard was dramatically affected. Will you still be able to source Syrah from this vineyard? Do you know anything about the vineyard's future, and the general future of the South Fork/North Fork plantings?
Resurgent took a huge hit from the spring floods. A significant percentage of the vineyard was washed away entirely -- vines, trellising, the works. Other blocks had significant damage short of total destruction. We are somewhat fortunate that our Syrah block is the highest block in the vineyard, and farthest from the river channel itself, so it was largely unaffected by the flooding. We've obviously been in contact with Dr. Brack, who at last check in was in discussions with FEMA about the resources available to help rebuild and recover. He is optimistic about the ability for our vines at Resurgent to continue with relatively normal production in 2020, so we are hoping for the best, but there's no doubt that this is a significant blow to Resurgent's overall production and operations.
Your new Gamache Viognier is delicious. Do you have any favorite Viognier producers that you look to for inspiration, either in Condrieu or elsewhere?
Not particularly. We tend to think of the Prospice Viognier as everything we love about Viognier, made in our own style.
How do your vinification techniques differ depending on fermentation vessel (oak vs stainless)?
The only thing we currently ferment in oak is the Viognier (all neutral barrel fermented). Any differences in vinification are driven much more by the grape/wine that's being produced than by the fermentation vessel. For example, our vinification techniques for the Rosé and the Viognier are largely identical, even though the Rosé is fermented in stainless and the Viognier in oak -- but these obviously differ radically from the techniques used across the board in our red wine production.
What winemaking project of yours are you most excited about right now?
This is a little like asking which kid is your favorite! Honestly, we're still at a stage where we're primarily excited about Prospice as a whole, and getting it established and running sustainably. There may come a time when we have a pet project, or a specific block of fruit that we're really jazzed about, but right now what we find most delightful are the surprises or the unexpected developments. For example, Jay was really concerned about our 2018 Les Collines Syrah for more or less its entire life up until the day we bottled -- he worried that the acid was just too prominent, too tart. Now that it's been in bottle for a couple of months, we find ourselves enjoying it possibly more than any wine we've produced up to this point.
What do you hope to see Prospice accomplish in the next 5 years? (Winemaking or other)
More than anything, we would like to see the growth of an enthusiastic and devoted community around Prospice and the wines we're making. Critical acclaim and scores are great, and we've been fortunate to receive some great praise for our early releases. We'd love to reach a point at which Prospice is consistently mentioned as one of the most respected producers in the state (who wouldn't?). Honestly, though, that's less important to us than, say, a couple from Boise who comes into our tasting room for the first time and just falls in love with our wine, our story, and our experience. We just want to keep making wines that we're really proud of, and never sacrifice the commitment to craftsmanship and authenticity that's been central to everything we've done so far.
If you could make wine anywhere in the world other than Walla Walla, where would it be and why?
Jay: Pomerol or St. Émilion – while my first "aha" wine was actually out of the Graves on the left bank, I've consistently found the intricacies and complexities of right bank wines, rich with yummy Merlot and Cabernet Franc, to be the most inspiring for me.
Matt: Rhône Valley in France - I have always been Rhône focused. My appreciation for all wines, regions, and styles has grown immensely during my time in the wine industry, and even more so once we began production of our own wines, but I have always gravitated towards Rhône or Rhône influenced wines.
What other wineries or wine professionals have you drawn inspiration from? What businesses and people outside of the wine industry have inspired you?
Jay: I don't have any "wine heroes" or any wineries that I've always idolized, to be honest. I will say that dozens and dozens of colleagues in the industry here in the Walla Walla Valley have been unbelievably generous and supportive -- I won't start listing names, because I'd inevitably leave one or two off. But I am so grateful to be living out this wine dream in Walla Walla, because I think the community here is so uniquely supportive of all its members. Outside the wine industry, I'd say Steve Jobs -- a guy who was unrelenting in the pursuit of his vision and his passions. I think personally I wouldn't have gotten along with him at all, but I deeply respect what he achieved. He also gave a commencement address at Stanford in 2005 (check it out on YouTube) that was influential on my own thinking as I made the decisions to step away from my corporate legal career and pursue this wine dream.
What would you like consumers to know about your business during this crisis?
That we will survive, and thrive on the other side. We appreciate everyone who finds a way to support us right now -- if you have the means and desire, by all means, we'd love for you to buy some wine. Our Wine Club members are amazing -- having a big community of customers ready and eager to receive our wines, and in many instances adding wine to their spring shipment, is a massive help in being able to keep the lights on and keep rolling.
But we know this is a time of huge uncertainty, worry, or fear for many people. Nobody should feel uncomfortable or bad if they don't feel able to spend money right now for what is, let's face it, a luxury good. We are in the enviable position that our main asset is arguably just getting better as it sits in barrel and bottle a little bit longer before we sell it!
Are you offering delivery? Pickup? Have you changed your shipping policies?
Absolutely! We are happy to provide free delivery to anywhere within reasonable driving distance of Walla Walla. We are also offering $15 flat rate ground shipping for all orders, with shipping included for any order over $400.
How have you been occupying your time during "shelter in place"? In what ways has your life been affected outside of your work?
Jay: I am very much an introvert at my core, so the current circumstances play right into my comfort zone in a lot of ways. I think a key to maintaining an even keel in this kind of situation is to focus on the things you can control, and try not to worry about the rest. Certainly I have been spending a lot of time thinking about things I can be doing to stabilize, develop, and grow our business -- things like the live online tasting we did last week, or thinking about possible landscaping work at the tasting room. I have also been trying to appreciate the fact that this kind of "break" doesn't come along very often (I hope!), so I am also trying to make the most of that fact, and enjoying more leisure time. Reading more books, playing games, going for walks with my wife, things like that. I realized last spring that I typically won't be much help with gardening with the tasting room is open, as our spring weekends are generally peak season -- so I am trying to take advantage of this opportunity to be out in the yard and garden much more this year.
Matt: I have been getting a lot of quality family time, and in some circumstances too much quality time...any parent gets that. With schools and childcare programs closed down we have a 5 and 2 year-old to keep track of each day. My wife works remotely for a company on the east coast, so I watch the kids in the morning while she works and then I take care of my work responsibilities in the afternoon or at night. We look forward to an eventual return to "normal days" but consider ourselves lucky that we have the flexibility to approach each day in the manner that we do.
Have you had to delay any rollouts or changes to your business because of COVID-19?
It remains to be seen how sales progress through the year, but we will almost certainly delay some future releases because of this slowdown. We are not entirely unhappy about it -- since opening we've had a desire to have the opportunity to give some of our wine more time in bottle before release.
No one really seems sure how long the pandemic will last, with estimates ranging from weeks to months. How long can your business survive the current climate?
We have been extremely disciplined and deliberate with everything we've done since starting Prospice. As a result, we've ended with production slightly larger than where we thought we would be at this point, without cutting any corners on any of the critical inputs (e.g., no compromises on fruit sourcing, barrel program, etc.) — but by focusing very hard on controlling costs and lots of sweat equity from us, our families, and our friends, we've kept costs as tightly controlled as possible. So aside from a truck loan, the business is debt free, with lots of assets in barrel and bottle. We are admittedly fortunate that neither of us is reliant on the winery for household income at this point -- that would be a game changer, no question.
Short answer, we are as confident as we can be, given all the unknowns, that Prospice is in a good position to ride this out until we can get back to what we'd all rather be doing.