July 16, 2021 |
Winosaurus Rex
SHOP OUR TRIO OF NATURAL MEXICAN WINES HERE
Mina Penélope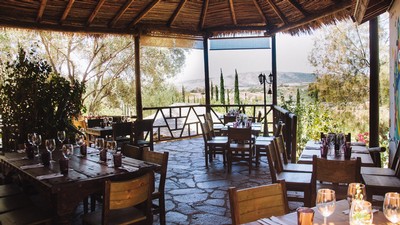 Winemaker Veronica Santiago is one of the most well-respected winemakers in the valley and her palate has shown itself in blind tastings to be one of the best. The wines she and Nathaniel are making are at once elegant, informed, and remarkably old-world in style. These wines follow closely the natural wine-making style championed in the Loire and Saone valleys and emulate closely the body compositions and flavor profiles of the wines made in this area with minimal intervention. All wines are made from organically grown estate vineyards tucked into a tight fold on the valley wall of Valle de Guadalupe.
Made in an ancient winemaking style where white grapes were fermented with the skins to extract color, flavor, aromatics, and structure, this wine is made from 100% Sauvignon Blanc grapes that are left to ferment on the skins for 11 days. From this brief moment of contact comes almost everything that makes this wine sing. Apricot, peach, and other stone fruits on the nose dominate the first act that leads without intermission to a palate, unlike any wine you have ever tried before, again repeating the stone fruit show but adding to it notes of honeysuckle blossoms, fresh herbs, honeycomb, beeswax, and ocean breeze. If you get some, share it. It's the right thing to do. Only 55 cases made.
Bichi La Santa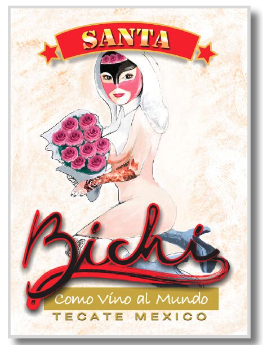 La Santa comes from centenarian, own-rooted Rosa del Peru (Moscatel Negro) vines grown at 2,400 ft elevation on sandy loam and granite soils in Tecate. The grapes were hand-harvested, de-stemmed, and fermented without temperature control in 450-liter concrete tinajas with 45 days of maceration. The wine was then raised for 3 months in ½ stainless steel vats and ½ older barrels. A lively vin de soif, La Santa is almost rosé colored in the glass, delicately floral, with red and dark fruits and juicy acidity. A lovely red wine to serve chilled with charcuterie and cheeses.
While Valle de Guadalupe has overall adopted a more technological and modern approach, Bichi adheres to traditional methods and minimal intervention. Bichi farms 10 hectares of their own Tecate vineyards biodynamically and collaborates with a growing family of organic farmers working vineyard land in Tecate and around San Antonio de las Minas (Valle de Guadalupe). Their work with Misión is notable, but you will also find Rosa del Peru (Moscatel Negro), Tempranillo, and in the case of the No Sapiens vineyard a mysterious grape variety that remains unidentified (possibly Carignan from Spain, or possibly Dolcetto from plantings brought over from Italy in the 1940s). In the winery, grapes are destemmed by hand and gently trodden by foot, and fermentations are carried out by wild yeast in locally made concrete amphorae. The wines are raised in a mix of neutral barrels and steel vats, with a minuscule 10 ppm of sulfur added at bottling to preserve the wine for travel, if needed.
La Casa Vieja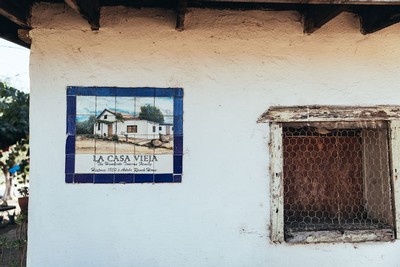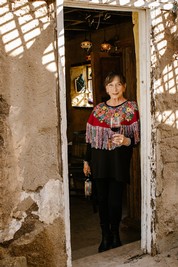 La Casa Vieja is iconic viticulture of Baja California, which has an overlooked but equally important vitis history to Mexico's better-known neighbors to the North. 18th Spanish Missionaries in Baja had a recipe to slake the thirst of their religious congregants: build a mission, plant a vineyard. They began in Las Californias Altas of New Spain (present-day California) before heading south and branching throughout Baja California's rugged landscape.
This nearly forgotten vignette is one that winemaker Humberto 'Tito' Toscano was content sharing only with those lucky enough to stumble upon his 1800's adobe ranch in San Antonio de las Minas, a sub-valley of the Valle de Guadalupe. Humberto was born on the property and returned in 2003. He nursed it back to health and has nurtured it ever since. Honoring history and taking a cue from the padres—his father, the missionaries, and local farmhands—Toscano tends his 120+-year-old, dry-farmed, original-rootstock-vineyards, including Mission and Palomino, naturally. When asked if he ever sprays his vineyards, Humberto responds, "With love and wisdom."
The Mission vines are 120+ years old (some have speculated older), while there is a 150+-year-old 'Mother Vine' that anchors the property. The vineyard goes up a gentle slope on the back of the estate. Harvest usually starts in mid-September but can last over a month. Grapes are destemmed by hand, massaged in bunches over a kind of wooden zaranda. The grapes are then crushed by foot and transferred to plastic drums and one 450-liter concrete egg for fermentation and maceration. After native yeast fermentation, which takes about 2 – 3 weeks, the grapes are pressed off with a small, wooden, 55L, hand crank basket press and racked into to neutral, 225 L oak for 6-8 months. Before bottling, the wine is transferred to glass carboys. Everything is racked and nothing is filtered or fined. The entire bottling process, down to labeling, is done by hand. No sulfur is added at any time.
SHOP OUR TRIO OF NATURAL MEXICAN WINES HERE