June 10, 2020 |
Allan Crum

Tuscan Sangiovese at Salvioni la Cerbaiola
"Only two things money can't buy,
That's true love and homegrown tomatoes."
- Guy Clark
There will come a point this summer when someone you care about will offer you a garbage bag full of ripe tomatoes. You will take the bag, thank them, and promptly make yourself a BLT, or an A(vocado)LT if you don't eat meat, or a T(urkey)BLAT if you like attempting to eat sandwiches that are too tall to eat. In the following days, maybe you'll enjoy your tomatoes plain, just sliced with a little olive oil, flaky salt, and black pepper. Perhaps there is a Caprese salad or two in your future. Somehow, you'll whittle your way through the giant pile of lovingly-grown tomatoes, thanking your friend with every ruby slurp. How did you make it through the previous 3 seasons without a real, ripe tomato?
There will also come a point this summer when that same loved one will show up on your doorstep with an even larger "put the money in the bag" bank robbery-style duffel filled to the brim with tomatoes that are approximately 27-minutes from overripe. There will probably be a cloud of fruit flies, and your friend will have a wild, desperate look in their eyes. Today is the day - you'll think - break out the confetti. We have reached Peak Tomato.
It happens every year. Driven mad by 6+ consecutive months without a decent tomato, amateur gardeners throughout town will plant an array of heirloom varieties, filling their yards/garden boxes/highway medians to the brim. "Look how tiny those seeds/starts are," they'll think, forgetting the tomato leaf jungles of the previous summer, "I should put in a few more." The tomatoes will grow tall and heavy in the Walla Walla sun, propped and cradled by cages like deliciously swaying suspension bridges.
This year's quarantining has led to an explosion of gardening. Everyone has been trapped at home with images of empty supermarket shelves. I don't mean to be alarmist, but I'm predicting a Peak Tomato season the likes of which this county has not seen in decades. Luckily, many folks have also been experimenting with bread baking. Tomatoes + Homemade Bread + a few odds and ends = Panzanella! Panzanella is a Tuscan bread and tomato salad that is delicious, easy to make, and infinitely customizable. Toss in some cheese, omit the olives, trade the basil for some other leafy herb, add some arugula, etc. As long as you've got tomatoes, a country loaf, and good olive oil, you're set. It's never too early to prepare for Peak Tomato!
Pair your Panzanella with a medium-bodied, Sangiovese-based wine from Tuscany, like the ones found in our Italian six-pack. Sangiovese's combination of red fruit flavors (especially cherry), fresh acidity, and savory balance of leather, clove, and yes, even tomato leaf, make it a fantastic pairing with homegrown tomatoes. As always, the original rule of wine pairing applies - drink what they drink in the region that the food is from.
Panzanella
1 loaf of homemade bread, regardless of how successful, cut into 1" cubes
15-20 basil leaves, torn or chiffonaded
1 cucumber
Some amount of homegrown tomatoes, up to and including 1 metric garbage bag full. (or, ya know, 2 of them), cut into bite sized chunks
½ red onion or 1 large shallot, thinly sliced
½ cup olives, halved and pitted (squish them with the back of your knife or a plate)
Kosher salt
Black Pepper
2 tablespoons red or white wine vinegar
At least 8 tablespoons olive oil, divided
1-2 cloves garlic, grated or otherwise smooshed
---
- Preheat your oven to 350F.
- Place your chunked tomatoes into a colander in the sink. Season with 1-2 teaspoons kosher salt, tossing to coat. Drain for at least 30 minutes. I found this technique on Serious Eats, and it really makes the difference between a crunchy Panzanella and a squishy one.
- Toss your bread chunks with 2 tablespoons of olive oil, then toast for 10 minutes on a baking sheet, or until crunchy and lightly browned. Set aside to cool.
- Cut your cucumber in half. Scoop out the seeds, then chop into bite sized chunks.
- In a bowl, whisk together your garlic, shallot, and wine vinegar. Drizzle in your remaining olive oil, whisking constantly, to form a dressing. Season with salt and pepper.
- Toss together your dressing, tomatoes, cucumbers, olives, basil, and bread. Adjust seasoning accordingly.
- Open your bottle of Sangiovese. You should know what to do next.
---
ITALIAN WINES FOR THE SUMMER 6-Pack, Shop HERE

Alois Lageder Terra Alpina Pinot Grigio 2018
100% Pinot Grigio
Calcareous dolomitic limestone
Vines mostly trained on pergolas
Converting to organic viticulture
Aged 4 months on lees
Vegan
Lemon, poached pear, white flowers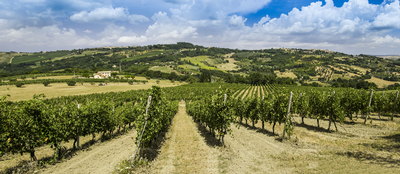 Umani Ronchi CaSal di Serra Verdicchio 2018
Castelli di Jesi DOC
100% Verdicchio
Organically grown
Clay loam
Fermented and aged in stainless steel on lees
91 points Wine Enthusiast
Apricot, yellow apple, jasmine

Casanuova delle Cerbaie Rivale 2011
Toscana IGT
Just south of Montalcino
70% Sangiovese, 30% Merlot
Mixed clay
Aged 10 months in french oak
Red cherry, fresh plum, leather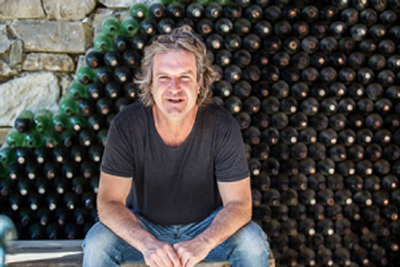 Bibi Graetz Casamatta 2018
Toscana IGT
100% Sangiovese
Translates to "crazy house"
Fermented and aged 6 months in stainless steel
90 points James Suckling
Raspberry, cherry, iron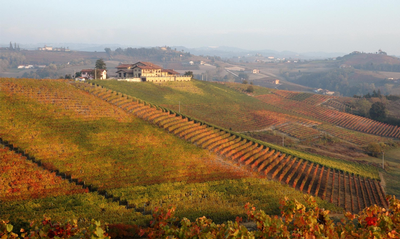 Pecchenino san Luigi 2017
Dogliani DOCG
100% Dolcetto
25-35 year old vines
Fermented and aged in stainless steel
92 points VM, 90 points W&S, 90 points James Suckling
Blueberry, elderberry, lavender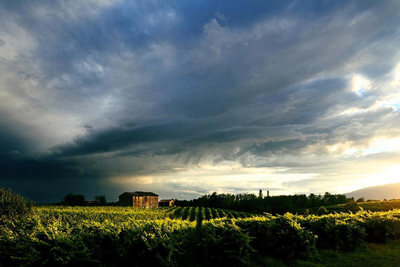 Sommariva Il Rosa Spumante Brut
Just outside Prosecco Superiore
60% Raboso, 40% Pinot Nero (Noir)
Clay soil
Hand-picked, direct pressed
Fermented and aged in stainless steel
No malolactic
12g/l dosage
Strawberry, honeydew melon, cucumber
Italian Wines for the Summer 6-Pack, Shop HERE